Physical Presence of Doctor must to Authenticate Lab, Radiology Report: MCI in RTI response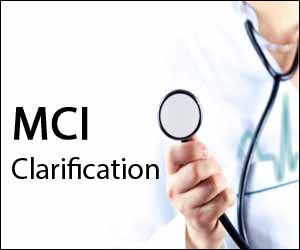 New Delhi: The physical presence of doctors is necessary for authentication of Laboratory as well as radiology reports, the Medical Council of India (MCI) has recently clarified in an RTI reply.
The clarification indeed comes as a death knell to the practice followed by many specialists, who verify laboratory reports remotely based on technician's evaluation without themselves going through the investigations themselves.
With the advent of technology, the use of digitised/scanned signatures has become a common phenomenon in diagnostic reports particularly laboratory reports. However, such technological advancement, while bringing convenience to doctors, has indeed proven to be risky as patients with the growing practice of lending and/or even signature stealing, where signed lab reports are given to the patient without authentication of the test by the qualified doctor.
Read Also:

MCI Board of Governors Clarify on Who Can sign Laboratory Reports.
Medical Dialogues has repeatedly reported, how the act of lending signatures has got doctors in trouble. In 2018, ruling it "unethical" that the pathologist was lending his name and registration number to over 200 laboratories across the state, where his personal supervision was 'physically impossible', the Maharashtra Medical Council (MMC) barred the doctor from practising for a period of six months.
Read Also: Medical Council suspends Maharashtra Pathologist for Allegedly Selling Signatures to far off labs
Similar action was taken by the Delhi Medical Council which suspended a pathologist for a period of 365 days on account of professional misconduct for selling his name and signature to a laboratory which did not even have the required infrastructure.
Read Also: Pathologist suspended for Selling Signatures: Delhi Medical Council
With such practices being rampant, especially in remote areas, the availability of digitised or scanned signatures has only made it easy to provide patients with reports of unverified signatures and putting their health at risk.
While the MCI regulations remain silent on the use of such digital or digitised signatures, it has indeed clarified that the physical presence of doctors is necessary for authentication of Laboratory as well as radiology reports.
Speaking to Medical Dialogues team Dr Rohit Jain, Consultant Pathologist, Santokba Durlabhji Memorial Hospital, Jaipur & Secretary, Practicing Pathologist Society, Rajasthan who filed the RTI stated "Usage of scanned signatures on pathology and radiology reports in absentia or online is rampant. The MCI board of governors have given a clear reply to my RTI that physical presence is necessary to sign pathology and radiology reports
This would benefit the patients immensely but the state governments have to keep a strict vigil that all reports are signed in physical presence and not online or in absentia."