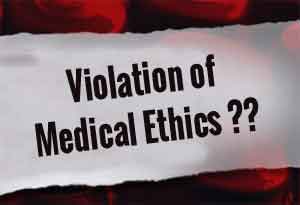 BENGALURU: While Karnataka doctors are rejoicing the government's assurance for making the demanded changes in the KPME act, an advocate from Bangaluru, S Nataraj Sharma has gone ahead filed a complaint against the IMA Karnataka President Dr H N Ravindra as well as the association branch Secretary Dr B Veeranna, with the Karnataka Medical Council on the strike issue.
In his complaint, the lawyer claimed that both the Dr Ravindra and Dr Veeranna instigated the whole doctor's community to join the protest against the KPME Act amendments leading to disruption of medical services in the state which led to 51 deaths in the state.
Read also: KPME Act: Medical Community hopeful that Price Cap, penalty would go
Indian Express
reports that terming it 'negligence' on part of the practitioners to go on a strike, the complainant has held them responsible for 51 deaths in the state due to non-availability of medical help for four days
Confirming the receipt of the complaint to
TOI 
Dr Nataraj H Veerabhadrappa, president, Karnataka Medical Council said, "It's against the code of conduct for doctors to protest. The media has reported that there were 51 deaths in the state when the doctors went on strike. This matter has to be investigated."
"Notices will be sent to the accused in the complaint to appear before KMC," he added.
Medical dialogues team had earlier reported that Protesting against the Clinical Establishment Bill amendment, more than 50,000 private doctors had announced an OPD Shutdown to show their anguish and disapproval of the government's new bill that is designed to regulate the functioning of the private healthcare sector in the state.
Read also: Karnataka: 50,000 private doctors stay away from work, IMA to continue hunger strike
The doctors were up in arms against the amendments to the Karnataka Private Medical Establishments (KPME) Act, 2007, which among others propose six months to three years jail term and hefty penalty for medical negligence on the part of doctors. The four main demands put forward by the community included
No grievances redressal committees
No penalty on erring doctors or their imprisonment for the death of a patient due to medical negligence
Ceiling on cost of treatment should be applicable to only government health schemes which are being run private hospitals
Inclusion of government doctors under the KPME Act
The decision to call off the strike was taken at a meeting between Chief Minister Siddaramaiah and representatives of doctors.
6 comment(s) on Plaint With Medical Council against IMA Karnataka President, Secretary for instigating Strike