PMJAY benefitting poor, downtrodden; 3 lakh benefitted in 2 months: Nadda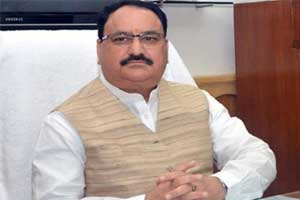 New Delhi: Union Health Minister J P Nadda on Friday said it is commendable that within two months of launching Pradhan Mantri Jan Arogya Yojana (PMJAY), more than three lakh poor and deprived population of the nation reaped its benefit.
Mr Nadda tweeted: ''PM Narendra Modi launched PMJAY--world's biggest Health Scheme in Ranchi on September 23. It is a matter of pride for us that within a span of two months, more than three lakh poor and deprived people of the country benefited by this scheme.''Lauding PMJAY health schemes, the Minister also tweeted :
''It is PM's clear vision that nobody in this country is deprived of treatment because of lack of money. Today, more than three lakh patients have been provided with Rs 450 crore health-related services and benefits for absolutely free.