Pranab Mukherjee lays foundation stone of Super Specialty hospital of BRS Health & Research Institute at Udupi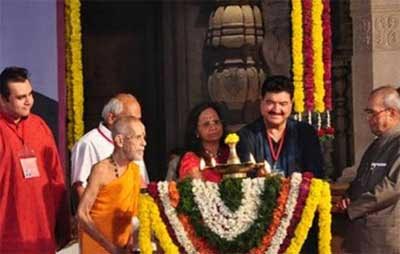 The President of India, Shri Pranab Mukherjee laid the foundation stone of a Super Specialty Hospital of BRS Health & Research Institute at Udupi, Karnataka.
Speaking on the occasion, the President said that while advances in modern medicine and investment in health infrastructure have made many diseases such as cholera, small pox, plague, tuberculosis etc. curable and eradicated others, yet there remains a huge gap in our country in terms of access to medicine and health care. This brings us to the larger and more serious question of the skewed nature of health care in India both in terms of infrastructure and personnel. Against the international norm of one doctor per thousand population, we have one doctor for 1700 people in our country. The ratio thus stands at 0.7:1000. The situation is all the more alarming in the vast hinterland of rural India.
The President said that only healthy mind and healthy body can be the abode of God. He appreciated Dr. B. R. Shetty and his wife for their efforts in establishing this Hospital. He stated that providing accessible and affordable medical facilities should be the objective of healthcare in our country. He also emphasized that in case doctors are unable to save the lives of patients, attacks on doctors or any violence on the part of relatives of the patients should be avoided. He condemned this uncivilized behaviour and said that we should trust doctors who try their best to save lives and cure patients.