Protest against NMC: IMA calls for Nationalwide Medical Bandh on 31st July, boycott of Classes by medical students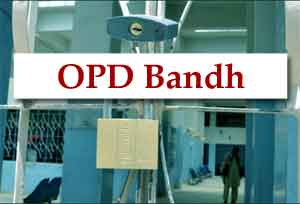 New Delhi: Continuing with their protest against the National Medical Commission Bill that was recently approved in the Lok Sabha, the Indian Medical Association has called for a nation-wide bandh of medical services rejecting the NMC Bill 2019 in toto.
As per the association's call to its members, there will be 24 hours withdrawal of services on Wednesday 31.07.2019.
"It has been decided to call for 24 hours withdrawal of non-essential services across the nation by modern medicine doctors from 6 am on Wednesday, 31.07.2019 till 6 am the next day ie. Thursday,  01.08.2019." the association stated. Emergency, Casualty, ICU and related services will function normally, the note added.
"All the members of the modern medical fraternity are requested to participate. All the medical students are requested to boycott classes and proclaim solidarity.Public demonstrations and hunger strikes will be organised by all the state and local branches." the call stated
" The mess created by the Bill regarding the examinations affecting the career generations of medical students can not be condoned. The numerous other inconsistencies in the Bill will seriously affect the Health of the nation" it stated
"The struggle to redeem the Health of the nation is our privilege and sacred duty. We will never allow licensing unqualified non medical persons to kill our patients. We will never allow our mothers and children die in thousands for ever due to this Black Law."
Medical Dialogues team had earlier reported that After a day long of protests, both inside and outside the parliament, the National Medical Commission (NMC) finally got a Lok Sabha nod with a 260-48 votes majority.
With this, the lower house of the parliament has finally given its nod to the NMC Bill for replacing the corruption-plagued MCI with a new body, in what has been described by the government as one of the biggest reforms that will end 'inspector raj' in the medical education sector.