Protest by MBBS students at Hi-Tech Medical College over admission row in SRMC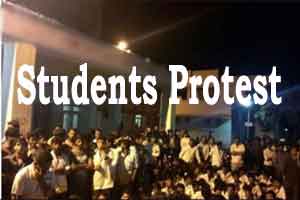 Post a recent judgment by the High Court over the fate of medical students seeking admission to the
Sardar Rajas Medical College
; there was a brief spell of relief for the 124 students under the government and the management quota.  The state's High Court had directed the private and government colleges in the state to admit these students as the admission was put on hold in the SRMC college after an
MCI inspection
report earlier.
However, this magical spell for some of the students has been cut short after a local news report that the MBBS students (third and fourth semester) of Hi-Tech Medical College have voiced their opinion against the decision.
Their concern is grounded with the students alleging that that the high court decision on relocation of the SRMC students in government medical colleges bypasses the counseling process of the National Eligibility-cum-Entrance Test, 2013.
They have in principal protested against the decision to relocate students to their college , and in turn demanded a proper upgrade of the MBBS seats through counseling.
"Our rank is higher than that of the SRMC students. According to the decision, students having ranks lower than ours will get a chance to study in government medical colleges. This is unjust," said an agitating student on Monday.
According to the verdict, the government run medical colleges will be required to admit students under the government quota, and likewise the students under the management quota will be granted admission in private medical colleges. A total of 124 students of the college will have to make a shift in the interim of the new academic session next year.