PSRI multi-specialty hospital conducts free health check up camp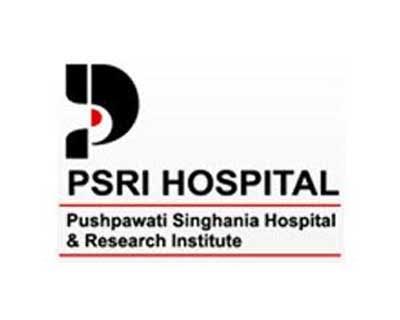 New Delhi: Commemorating its 21st Founder's Day and in an endeavor to promote healthy lifestyle, Pushpawati Singhania Hospital & Research Institute (PSRI) a multi-specialty hospital here organized free health check-up camps and school wellness programme.
More than 300 people turned out and were medically examined at the camp during the day. Special emphasis was laid on Cardiology, Neurology, Orthopaedic, Gastroenetrology, Urology, Nephrology, Gynaecology, Paediatrics, Diabetes and Endocrinology as a part of health check-up camp.
Moreover, PSRI is also engaged in a year long association with reputed schools of South Delhi including Amity International School, Greenfield school, Balvidya Bhawan to name a few which was attended by 5000 students.
The motto behind the association was to promote the optimal physical, emotional, social, and educational development of the students. The programme included annual health check-ups of the students, health engagement programme and related talks such as anger management, gender sensitization, stress management and dietary behavior.
This school-wellness programme also includes services such as integration of nutritious and appealing meals for students in the school cafeteria and emergency services.
Eminent doctors from the hospital such as Dr. Rahul Jain, Dr. Amit Srivastva, Dr. Poonam Gulati, etc were present to conduct the health check-ups.
Dr Dipak Shukla, CEO, PSRI multi-specialty hospital said, "We have organized health check-up camps to celebrate our Founder's Day. We have also associated with five schools in Delhi to conduct wellness programme. The intent to engage in wellness programme was to ensure that the students lead a healthy life".
"Nowadays students are prone to diseases such as obesity, Department type 2 diabetes which are common among children in Delhi and other cosmopolitan cities. Lack of physical activity in children is another major concern that we should worry about. Hence balanced diet and regular health check-up becomes an important part", he further added.
At the camp physical check-ups was organized that included height, weight, blood sugar & other growth monitoring parameters. This along with dental and eye examination, dietician consultation was also provided to the people by the experts from PSRI multi-specialty hospital.
Young and enthusiastic students were also witnessed participating at a drawing competition on the theme of 'Swachh Bharat.'