Back to basics: lessons from an unusual serotonergic overstimulation by drug cocktail.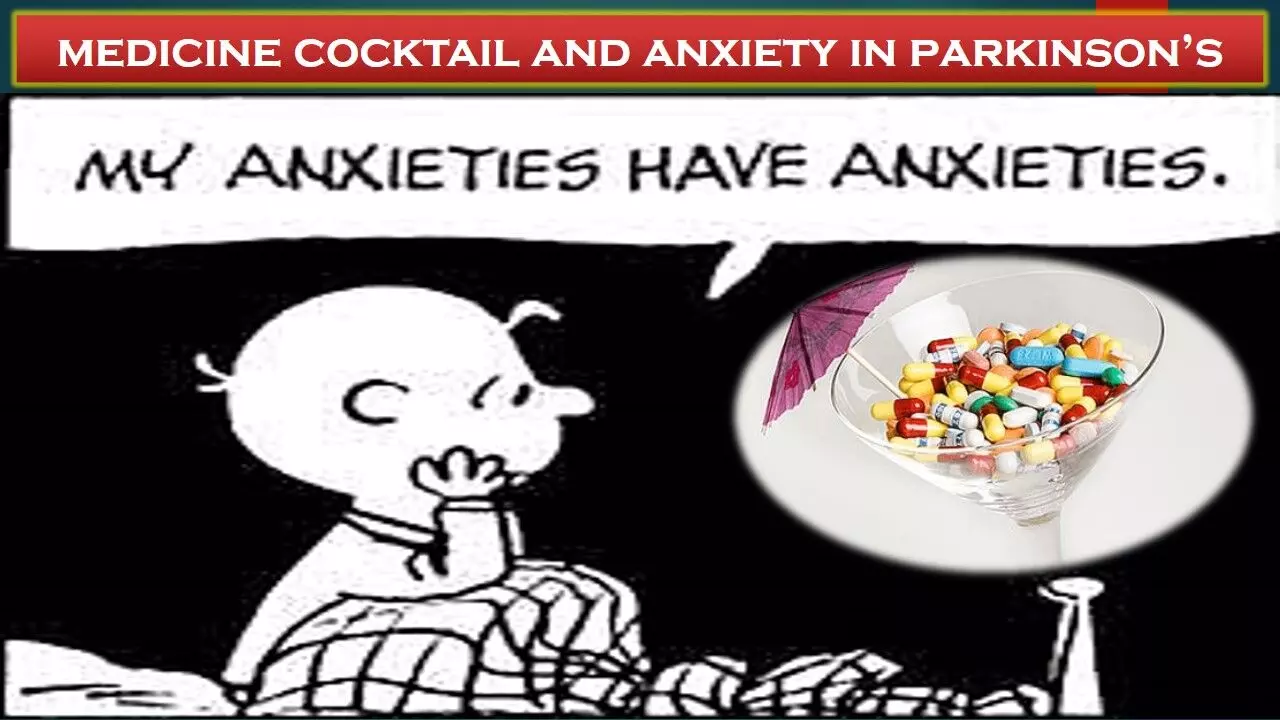 Antidepressants in particular are commonly prescribed for the treatment of depressive symptoms and anxiety in Parkinson's disease (PD). A case study published in Hindawi by Marc Praetner, shows how cocktails of medicines for both these conditions led to serotonergic overstimulation and psychovegetative exacerbations mimicking the clinical picture of an anxiety spectrum disorder.
A 62-year old retired female was referred and admitted to psychiatric hospital for diagnostic clarification and treatment of recurring paroxysmal psychovegetative episodes. Before admission patient was previously diagnosed with idiopathic Parkinson's syndrome, a moderate obstructive sleep apnea syndrome treated with a continuous positive airway pressure (CPAP) device, and chronic hypothyroidism following Hashimoto's disease approximately three decades ago and treated with thyroid hormone replacement since.
For past 6 months she had gradual reduction in resilience to physical activity, dyspnoea, with insomnia, fatigue and depressed mood and her general condition of physical weakness, shivering, headaches, and the sensation of facial heat. Unpredictable episodes of anxiety and vegetative symptoms occurred even out of quiescent states. On multiple emergency visits to hospitals, presenting with, recurring paroxysmal episodes of jitteriness, perioral and acral formications, palpitations, thoracic tightness, elevated blood pressure, and a darkish red discoloration of scalp and neck nothing was revealed in investigation. These episodes emerged unexpectedly and were not associated with physical or emotional stress or other triggering factors.
Medication at admission consisted of moclobemide (450mg/day), agomelatine (50mg/day), pramipexole (0.525mg/day), rasagiline (1mg/day), L-DOPA+benserazide retard (200+50mg/day), ranolazine (375mg/day), and L-thyroxine (100 μ g/day). The dose of moclobemide had been increased from 150mg/day to the current dose about 1 year prior to admission. On the basis of MSE differential diagnoses considered were- paroxysmal episodes of psycho-vegetative symptoms included panic attacks/panic disorder, somatoform autonomic disorder, arterial hypertension with hypertensive exacerbations, iatrogenic hyperthyroidism, asthmatic disorder, and drug-induced serotonin toxicity. On investigations, all were found to be within normal limits except the plasma concentration of moclobemide (3310ng/ml) which was above the reference range of 300-1000ng/ml. Plasma concentrations of agomelatine were not detectable (<1ng/ml).
It was suspected that potential pharmacological interactions could be a contributing factor, in view of which, moclobemide, rasagiline, and ranolazine were discontinued. On the following day, the patient already experienced a decrease of psychovegetative symptoms. As the patient reported insomnia despite being on agomelatine 50mg daily, this medication was discontinued. After moclobemide, rasagiline, and ranolazine were discontinued based on the hypothesis of serotonergic overstimulation and no further episodic psychovegetative or panic-related symptoms occurred during hospitalization.
The patient's blood pressure, which initially showed hypertensive episodes, went back to normal, and no antihypertensive medication was required. Trimipramine 10mg helped with insomnia. Medication at discharge included escitalopram 10mg/day (for depression), levodopa/benserazide 125mg three times per day, rotigotine transdermal 8mg/day (for PD), trimipramine 10mg/day (for insomnia), and levothyroxine 100 μ g/day (for hypothyroidism). The patient rated her mood as 9-10/10 on a scale from 0 to 10 with 10 being euthymic mood. The symptoms leading to admission subsided following discontinuation of MAO inhibitors moclobemide and rasagiline and did not reoccur during hospitalization.
The specific pharmacological regime in this case probably caused drug-drug interactions resulting in a plethora of psycho-vegetative symptoms. Likely due to the delayed onset of adverse effects, physicians had difficulties in determining the pharmacologically induced serotonin toxicity.
This case demonstrates that drug-drug interactions of antidepressant and anti-Parkinson medications, particularly when including monoamine oxidase (MAO) inhibitors. Clinically, the combination of moclobemide and rasagiline is hardly encountered and moreover explicitly contraindicated by regulatory agencies. The report emphasizes the complexity of pharmacological treatments and the importance of drug-drug interaction awareness in the treatment of PD patients with complicating non-motor dysfunctions such as depression.
Source: Hindawi case reports : Volume 2021, Article ID 8868023, 6 pages https://doi.org/10.1155/2021/8868023