"Betrayed by her own senses"- Patient has misperceptions of smell and taste due to an antidepressant.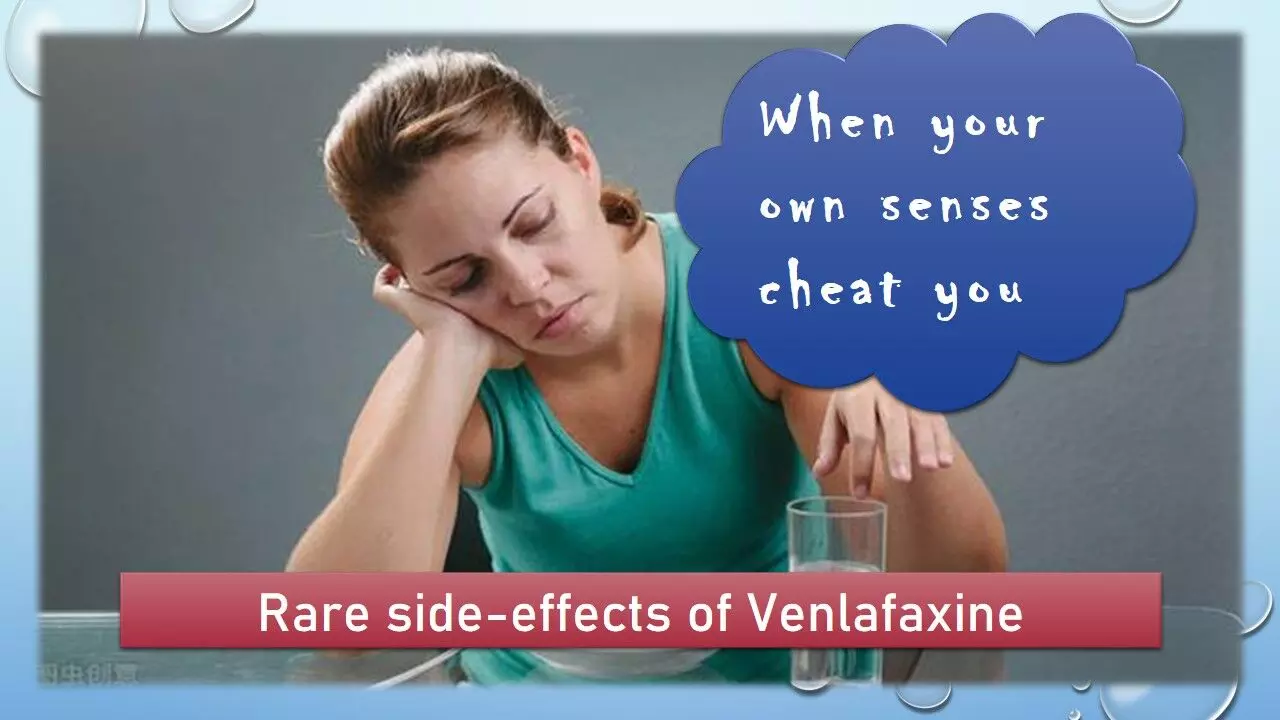 Dysosmia and dysgeusia are misperceptions of innocuous smell and taste stimuli, respectively, which can be very troublesome for patients. Development of these symptoms with selective serotonin reuptake inhibitors (SSRIs) or serotonin–norepinephrine reuptake inhibitors (SNRIs) has been shown in some anecdotal reports. Celeste Rousseau and John Malaty report one such case in the British Medical Journal where the combination of dysosmia and dysgeusia followed venlafaxine use for depression and resulted in significant weight loss due to decreased food intake. Interestingly the drug was not discontinued and with the development of tolerance, the patient's symptoms abated.
A 57-year-old woman with a history of menopause, hypertension, hyperlipidaemia, type II diabetes with nephropathy and shoulder osteoarthritis presented for evaluation of a 1-year history of depressed mood, sleeping problems with insomnia, anhedonia, guilty feelings, decreased energy and difficulty concentrating.

She was started on venlafaxine XR 75 mg orally daily. At her 1-month follow-up appointment, she reported that she developed food avoidance because of a severe, bad smell that had arisen within several days of starting venlafaxine.
She noted that her family told her the food smelled and tasted delicious and 'that it was just her'. This included avoidance of eating foods that she previously enjoyed eating regularly. while all this was happening, interestingly her depressive state responded very well to venlafaxine including an improvement in mood, sleep and postmenopausal flashes.
However, her food aversion led to a 7-pound weight loss that was directly a result of her food avoidance and not intentional weight loss. She was advised to stop venlafaxine and to switch to an alternative antidepressant, but she had just refilled the medication and was unable to afford a different medication and wanted to continue it given her improvement with her depression and hot flashes.
About 7 weeks later, she reported complete resolution of her dysosmia and no further weight loss. She was eating normally and enjoying food again. Due to the persistence of some of her depressive symptoms, her dose was gradually titrated to venlafaxine XR 225 mg orally daily. With 8 years of follow-up, she did not have recurrence of dysosmia and her major depressive disorder and postmenopausal hot flashes remain controlled as it was initially on venlafaxine XR 225 mg orally daily.
In their case report authors have showcased a thorough approach to differential diagnosis for this presentation:
1. Was it due to drugs other than venlafaxine since patient was on polypharmacy?
Patient had no change in her medications or adjustment of doses when she started taking venlafaxine XR and developed the dysosmia. Therefore this cause was unlikely.
2. Was it due to a medicine interaction?
Again unlikely since it cannot account for the sponaneouss resolution with continued use the drugs
3. Can it be primarily a nasopharyngeal pathology?
Patient denied any symptoms or history of allergic rhinitis or rhinosinusitis, head trauma, recent upper respiratory infections or tobacco use, hence this doesnot fit the complete clinical picture.
4. Intracranial neurological causes were unlikely since she had no other acute focal neurological deficits or complaints besides dysosmia, which ultimately resolved.
5. Patient had diabetic nephropathy and neuropathy which has been weakly associated with smell loss, but not dysosmia.
6. Olfactory hallucinations could account for such symptoms but hallucinations by definition occur when there is a smell perception (typically malodorous) without a stimulus, whereas patient's dysosmia occured when presented with a stimulus (food).
Hence by ruling out all the possible differentials venlafaxine was incriminated for her symptoms, which possibly resolved due to the development of tolerance to the side-effects of drug with continued use.

Is there a biochemical basis?
Serotonin and norepinephrine have been implicated in taste perception. Therefore, SSRIs and SNRIs have the capacity to alter taste sensation. However, dysosmia and dysgeusia have rarely been described to be caused by SSRIs or SNRIs. Previously duloxetine (SNRI) and citalopram (SSRI) have been reported to cause dysosmia and had to be stoped for its resolution. However, this is the first time dysosmia has been reported with the use of venlafaxine an the authors give following take-home messages form this case report:
1. Venlafaxine can cause dysosmia.
2. Dysosmia caused by venlafaxine may resolve with continued use (drug tolerance).
3. Once drug tolerance is achieved, additional dose titration can be performed without recurrence of dysosmia, but with additional therapeutic benefit.
Source; BMJ Case reports: Rousseau C, Malaty J. BMJ Case Rep 2021;14:e240547. doi:10.1136/bcr-2020-240547