The grave psychiatric emergency of a Grave's disease patient, BMJ case report.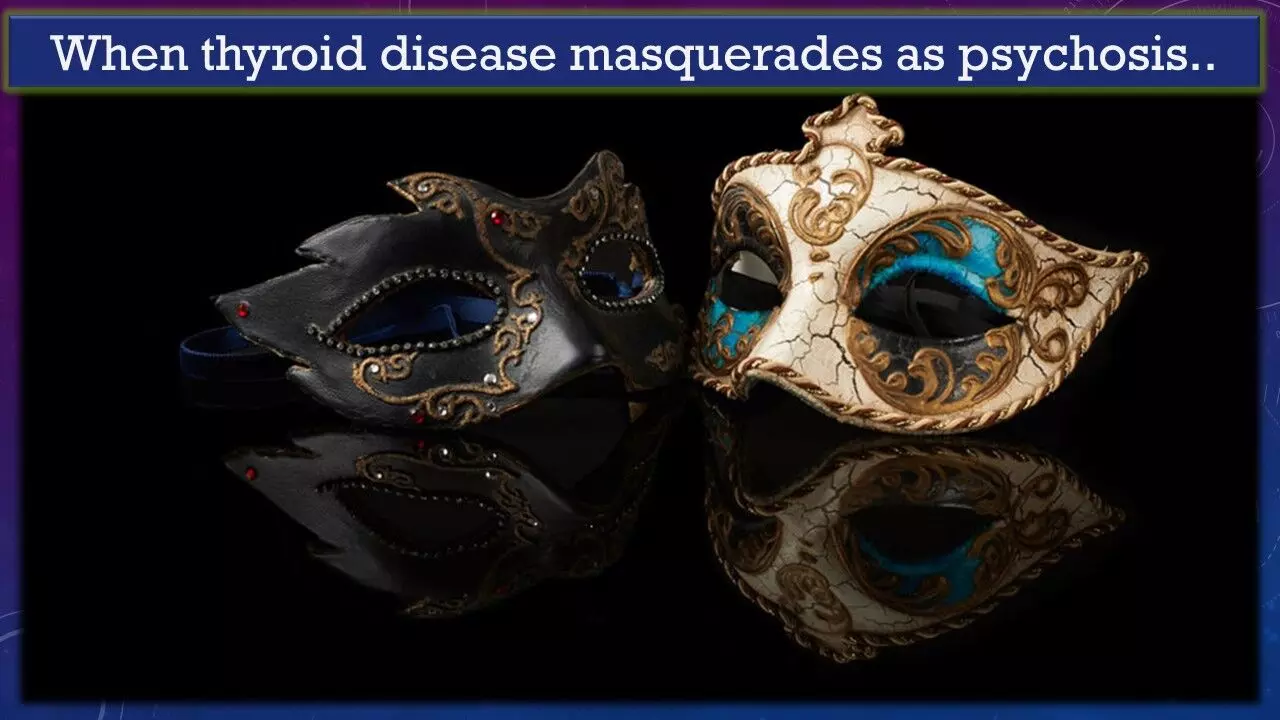 Although symptoms of irritability, insomnia, mood swings and anxiety are common presenting features of thyrotoxicosis, acute psychiatric symptoms as an initial presentation of thyrotoxicosis are very rare (<1%). Bennett et al in the current issue of BMJ case reports describe a young woman, with no prior psychiatric history, who developed hypomania and paranoia as the principal presenting features of Graves' disease. After starting treatment with carbimazole and propranolol, symptoms resolved without the use of antipsychotic drugs.

A 32-year-old woman was brought to the accident and emergency (A&E) department by her husband as she had demonstrated increasingly erratic behaviour over the previous 6 months. In the 4 months prior to presentation, she had been sleeping for only 2–3hours per night on the family sofa and eating only one meal per day. She had lost 15 kg in weight and had developed palpitations. Her thoughts were racing, and while she spent long hours working, she was unfocused and less productive than normal.
She had developed paranoid ideas, reporting to her husband that she was receiving messages from her mobile telephone directly into her brain, despite it being turned off. She had been feeling increasingly anxious, which was attributed to 'stress' and financial difficulties. She was finding it more difficult to look after her 16-month-old child; at the peak of her symptoms, her husband found her wandering around the kitchen and placing spoons in the fridge. She was previously fit, never smoked and was not on any regular medication. The situation reached a crisis point 3days prior to attendance, when she was asked to leave work.
Symptoms were initially diagnosed as 'anxiety', but as symptoms progressed she was referred to acute psychiatry services and was seen in the A&E department.
When she was assessed by the medical team, routine observations found her to be apyrexial at 36.7°C, and tachycardic at 120 beats per minute. She was hypertensive with blood pressure 162/85mm Hg and a visible and palpable smooth goitre. Blood tests in the A&E department showed no abnormality apart from primary thyrotoxicosis. A thyroid Technetium-99m uptake scan demonstrated scintigraphic findings consistent with Graves' disease, with uptake of 18.1%.
She was initiated on carbimazole 40mg once daily and propranolol 40mg three times per day. The opinion of the psychiatry team was that she did not require antipsychotic therapy or anxiolytics (apart from a beta-blocker). Physical symptoms of thyrotoxicosis, along with paranoid ideation and anxiety, gradually dissipated over the first 8 weeks of carbimazole treatment. At clinic review, 8 weeks after starting carbimazole, she was both biochemically and clinically euthyroid: she reported a complete return to her normal mental state.
Before there were effective treatments for Graves' disease, thyrotoxicosis was associated with the development of 'Basedow's psychosis', which was first described in the 19th century. Although psychosis is now a rare presenting feature of thyrotoxicosis, thyroid disorders are common in psychiatric patients: in one centre, review of the records showed that 3% of these patients had thyrotoxicosis and 23% were hypothyroid.
Following takeaway messages were given by this case:
1. Psychosis can occur as a significant or presenting feature in both thyrotoxicosis and hypothyroidism.
2. In the assessment of patients with either a newly diagnosed psychosis or relapse of a psychiatric condition, ask about symptoms of thyrotoxicosis or hypothyroidism.
3. When screening patients with agitation, delirium or psychotic symptoms for organic disease, always include a thyroid function test.
4. Patients with psychiatric complications of thyrotoxicosis may be managed without antipsychotic medication. Treatment with a thionamide and beta-blocker may be sufficient.
There will be situations where the severity of psychotic symptoms requires the use of antipsychotics as a first-line adjunct to antithyroid drug therapy; most psychiatrists believe that risperidone should be the first-line antipsychotic considered.

Source: BMJ Case reports: Bennett B, Mansingh A, Fenton C, et al. BMJ Case Rep 2021;14:e236089. doi:10.1136/bcr-2020- 236089