Back to the Future -study shows Antidepressant role of psychedelics.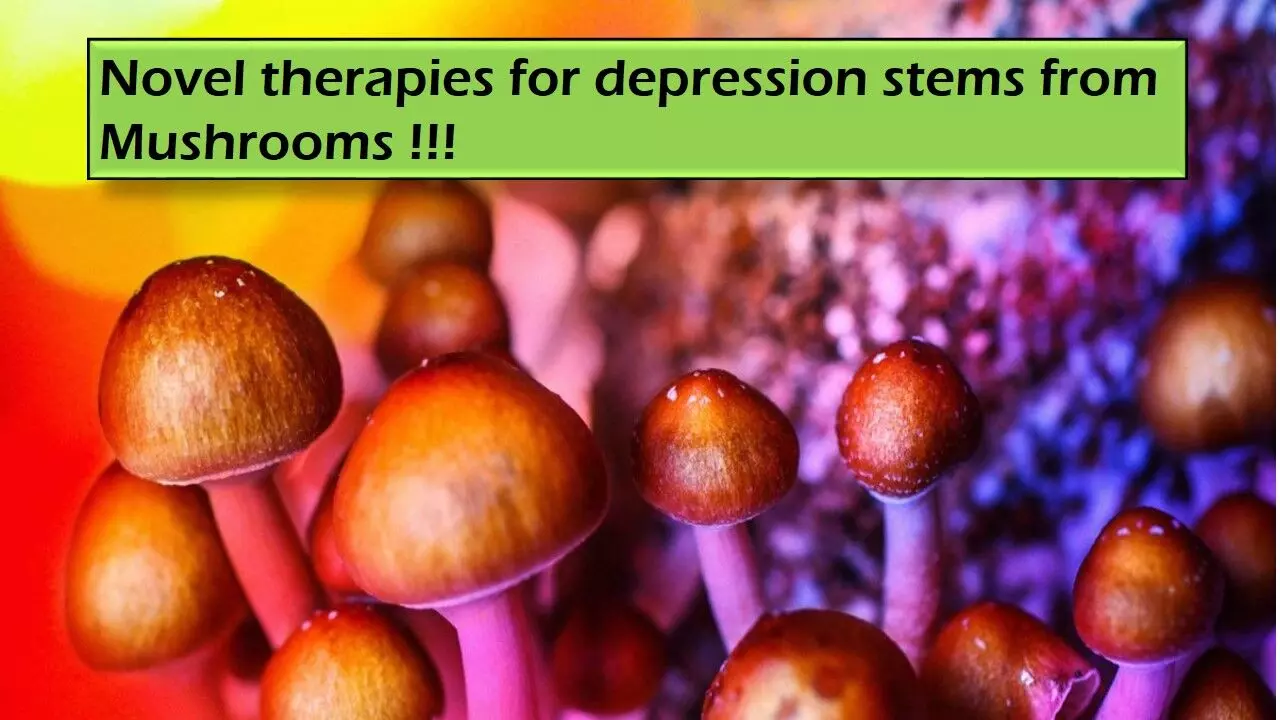 Selective serotonin-reuptake inhibitors (SSRIs) are first-line treatments for major depressive disorder; however, these drugs take several weeks to work and, in some patients, do not induce a response. Psilocybin showed promise as an adjunct to psychotherapy for mood disorders and addiction in the mid-20th century. A study published in the New England Journal of Medicine by Carhart-Harrisb et al. provides tantalizing evidence for the efficacy of psilocybin in the treatment of major depressive disorder.
In this phase 2, double-blind, randomized, controlled trial conducted in patients with long-standing, moderate-to-severe major depressive disorder, the role of psilocybin was compared with Escitalopram, a SSRI over a period of 6-weeks.
Patients were assigned in a 1:1 ratio to receive two separate doses of 25 mg of psilocybin 3 weeks apart plus 6 weeks of daily placebo (psilocybin group) or two separate doses of 1 mg of psilocybin 3 weeks apart plus 6 weeks of daily oral escitalopram (escitalopram group); all the patients received psychological support.
The primary clinical outcome was the change from baseline in the score on the 16-item Quick Inventory of Depressive Symptomatology–SelfReport (QIDS-SR-16; scores range from 0 to 27, with higher scores indicating greater depression) at 6 weeks.
The secondary outcomes included response at 6 weeks according to the QIDS-SR-16 (defined as a decrease in score of ≥50% from baseline); remission at 6 weeks according to the QIDS-SR-16 (defined as a score of 0 to 5).
An investigator-constructed patient-rated scale (the Post-Treatment Changes Scale [PTCS]) was used as a safety outcome measure for assessing post-treatment side effects and other phenomena that previous work has associated with psychedelic compounds or selective serotonin-reuptake inhibitors.
Out of total, 59 patients, the mean scores on the QIDS-SR-16 at baseline were 14.5 in the psilocybin group and 16.4 in the escitalopram group. The mean (±SE) changes in the scores from baseline to week 6 were −8.0±1.0 points in the psilocybin group and −6.0±1.0 in the escitalopram group, for a between-group difference of 2.0 points. A QIDS-SR-16 response occurred in 70% of the patients in the psilocybin group and in 48% of those in the escitalopram group,; QIDS-SR-16 remission occurred in 57% and 28%, respectively, for a between-group difference of 28 percentage points (95% CI, 2 to 54).
On the basis of the change in depression scores on the QIDS-SR-16 at week 6, this trial did not show a significant difference in antidepressant effects between psilocybin and escitalopram in a selected group of patients. Other secondary outcomes generally favored psilocybin over escitalopram.
Although the psilocybin-treated patients showed a pattern of improvement, the between-group differences did not reach statistical significance with respect to the primary outcome.The main effects of psilocin occur through serotonin 5-hydroxytryptamine type 2A (5-HT2A ) receptor agonism, which is part of a pathway implicated in depression.
The altered quality of conscious experience typically induced by a 25-mg dose of psilocybin adds complexity to this treatment model, because it requires that psychological support be provided to patients during and after treatment sessions. Psychedelic agents have been shown to enhance suggestibility, and their psychological effects are assumed to be context-dependent. In other words, the content and subjective quality of the psychedelic experience is influenced by a person's memories, perceptions, and degree to which the environment is supportive at the time of administration of the agent. Larger and longer trials are needed to compare psilocybin with established treatments for depression.
Source: NEJM N Engl J Med 2021; 384:1402-1411
DOI: 10.1056/NEJMoa2032994