India needs national suicide prevention strategy, stresses NIMHANS study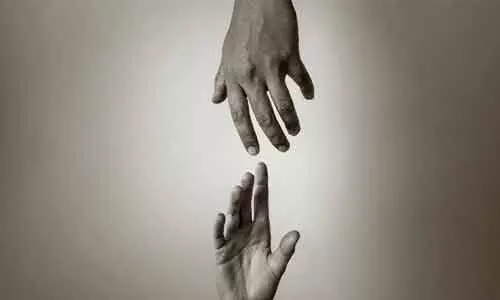 Bangalore, India: A comprehensive national suicide prevention strategy for any country, and for India in particular, needs information on both suicide and suicidality, a recent study in the journal Lancet Psychiatry has suggested.
"Though we have national information on suicide mortality in India from the National Crime Records Bureau and Global Burden of Disease Study, such information on suicidality is relatively absent in India; even when available has major limitations. As individuals experience or live with suicidality, there is a great opportunity for professionals, family, friends, colleagues and others to extend a helping hand for such individuals. Thus, understanding and helping individuals with suicidality becomes a key component of any suicide prevention. By providing comprehensive and reliable information on the prevalence and risk factors of suicidality for the first time, the findings of this scientific paper will complement the available data on suicide mortality to inform policy and action for suicide prevention in India," Dr Senthil Amudhan, Department of Epidemiology, National Institute of Mental Health and Neuro Sciences, Bangalore, India, and the lead author of the study informed Medical Dialogues.
Suicide is the act of deliberately ending one's own life (fatal outcome), whereas suicidality refers to all thoughts, plans and acts of suicide without a fatal outcome and thus excludes those acts of suicide that resulted in death. Suicidality is an important predictor and precursor of suicide.
Dr Sethil and his team performed the study where trained field data collectors from the NMHS obtained information on suicidality (during the past month) from a community sample of adults aged 18 years and older using the suicidality module of the Mini-International Neuropsychiatric Interview (version 6.0). Suicidality was categorized as low, moderate, high, and overall (representing any suicidality), and examined for sociodemographic differentials using normalized sampling weights. For each of the 12 surveyed states, the age-standardized suicidality prevalence was calculated for men and women, men-to-women ratio of weighted suicidality prevalence, ratio of suicidality to suicide deaths, and ratio of suicide attempts to suicide deaths.
Among 34 748 participants with complete interviews, 5·1% had some level of suicidality, and 0·3% (0·2–0·4) had at least one suicide attempt in the past month.
Key findings of the study revealed:

The prevalence of overall suicidality was higher in women (6·0%) than in men (4·1%).
The prevalence of overall suicidality was highest in those aged 40–49 years among women and in those aged 60 years or older among men.
Compared with their counterparts, individuals with lower educational attainment, individuals residing in urban metropolitan cities, individuals who were widowed, separated, or divorced, and unemployed individuals had a higher prevalence of overall suicidality.
The men-to-women ratio of overall suicidality prevalence for India was 0·68.
For every death by suicide in India, there were more than 200 people with suicidality and more than 15 suicide attempts.
There were variations for various severities of suicidality -- an increased risk for overall suicidality was found in women versus men (odds ratio [OR] 1·54) and in individuals residing in urban metropolitan cities versus those residing in rural areas (1·75).
Individuals belonging to the lowest income quintile, those with depressive disorders and those with alcohol use disorders had an increased risk for high suicidality, compared with their corresponding counterparts.
"Moving beyond the ambit of a mental health problem or even as any health problem, suicide and suicidality should be recognized as public health and social problem. Thus, there can be no single or simple solution for suicide and suicidality prevention," said Dr. Amudhan.
"Implied from the findings is the need to prioritize suicidality prevention, early recognition (early identification can lead to early interventions), and management approaches (services for those with pharmacological or nonpharmacological interventions) along with support for the families with a suicide or for persons who have attempted suicide in the recent past by all health care providers) within the political and public health agenda for suicide prevention. With success stories demonstrated from High-Income Countries, the study findings also emphasize the need for a national suicide prevention strategy with an action plan at national and state levels, to address high numbers of death by suicide and suicidality rates in India." he concluded.
Dr Senthil Amudhan also provided MD team with some key takeaways from the study. These included
1. Suicidality emerged as another unrecognized public health problem with greater occurrence than suicides and other mental health disorders of public health importance.
2. For every death by suicide in India, there were more than 200 people with suicidality and more than 15 suicide attempts the extent of which varied largely across the states.
3. At any time point in 2015, over 30 million Indians aged 18 years & above had thought about ending their own life, and 2.6 million had attempted suicide; a number higher than the population of few countries in the world.
4. About 1 in every 100 adults aged 18 years and older in India were reported to have a severe form of suicidality that required urgent intervention.
5. As India accounts for 18% of the global population, suicides and suicidality in India have global implications towards achieving the sustainable development goals (SDGs) that target a reduction by a third in premature mortality from non- communicable diseases by 2030, with the suicide mortality rate as one of the key indicators.
The study, "A population-based analysis of suicidality and its correlates: findings from the National Mental Health Survey of India, 2015–16," is published in The Lancet Psychiatry.
DOI: https://doi.org/10.1016/S2215-0366(19)30404-3
Please note Suicide Prevention Helpline: 022 2754 6669
Source : Lancet Psychiatry