Lithium toxicity may cause Oropharyngeal Dysphagia, a case report.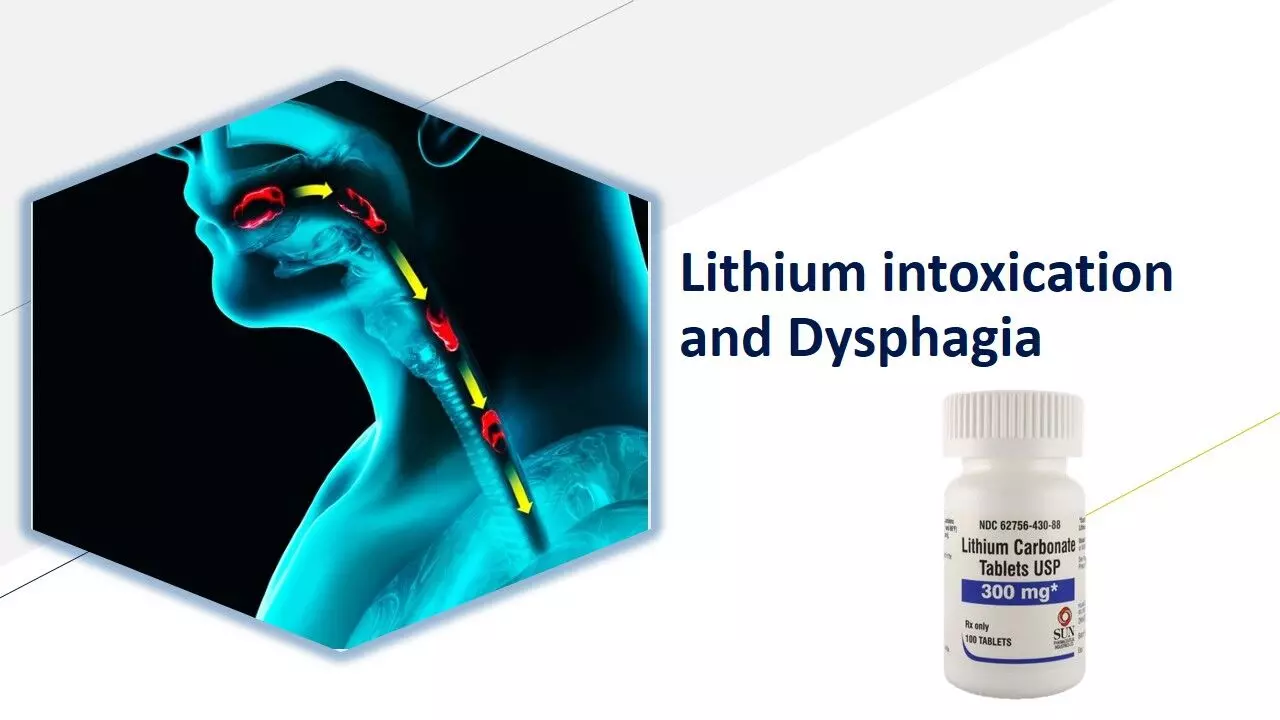 Lithium is an effective treatment option for bipolar disorder in children and adolescents; however, the therapeutic window is narrow, and psychiatric, neurological, renal, gastrointestinal, dermatological, and endocrine side effects have been observed.

Iatrogenic dysphagia has been reported with psychotropic drugs, benzodiazepines, antiinflammatory drugs, and some vasoactive drugs. However, oropharyngeal dysphagia due to lithium toxicity has not yet been reported in the literature. In a recent issue of Journal of the American Academy of Child & Adolescent Psychiatry, Dilan Aydin et al., have now described one such interesting case that enriches our knowledge about lithium's side effect profile.
A 17-year old boy, known case of bipolar disorder and autism spectrum disorder, was on lithium 1200mg (from 16 months), olanzapine 10mg, biperiden 2mg treatment. He presented to the emergency department complaining of difficulty breathing, tremor, and paresthesias in his arms and hands, and difficulty in swallowing for a week. Oropharynx examination of the patient was normal. Endoscopy was performed; no organic pathology was found in the pharynx and esophagus. All other investigations and referrals were normal.
It was inferred that his symptoms could be psychological, although, he had lost 4 kg due to continued complaints regarding swallowing and not being able to eat. He continued to complain of difficulty breathing, difficulty swallowing, with reduced oral intake, and ongoing tremor and paresthesias. He had no complaints of polyuria-polydipsia.
A blood sample was taken for serum lithium level.
Day 0 (blood analysis result reported 4 days later)- lithium serum level of 1.4 mEq/L was reported. Lithium treatment was stopped immediately; blood samples were taken on the same day for the lithium level.
Day 4- the lithium serum level was reported to be 1.7 mEq/L. A control blood sample was taken 24 hours after the lithium treatment was discontinued.
Day5- The patient's lithium serum level was 0.9 mEq/L. Dysphagia and other complaints started to resolve 2 days after the lithium treatment was discontinued (day 6).
Day8-After 4 days, the complaints of dysphagia, tremor, paresthesia, and difficulty in breathing completely resolved.
Day11- One week after the lithium treatment was discontinued, the lithium serum level was reported to be less than 0.1 mEq/L.
After his dysphagia complaint resolved, the patient gained 3 kg within a week. His treatment was continued with valproic acid 1,000 mg/d accompanied by olanzapine 10 mg/d.
Dysphagia in children and adolescents is usually associated with upper respiratory tract infections and tonsil disease. In this patient these conditions were explored in detail and were excluded.
This case highlights that difficulty swallowing may be an interesting sign of intoxication that may be missed by clinicians, and somatic symptoms may be disregarded as psychosomatic youths with mental illness.
Source: Journal of the American Academy of Child & Adolescent Psychiatry: https://doi.org/10.1016/j.jaac.2021.07.003