Lurasidone- Antipsychotic with minimal impact on metabolic profile in young patients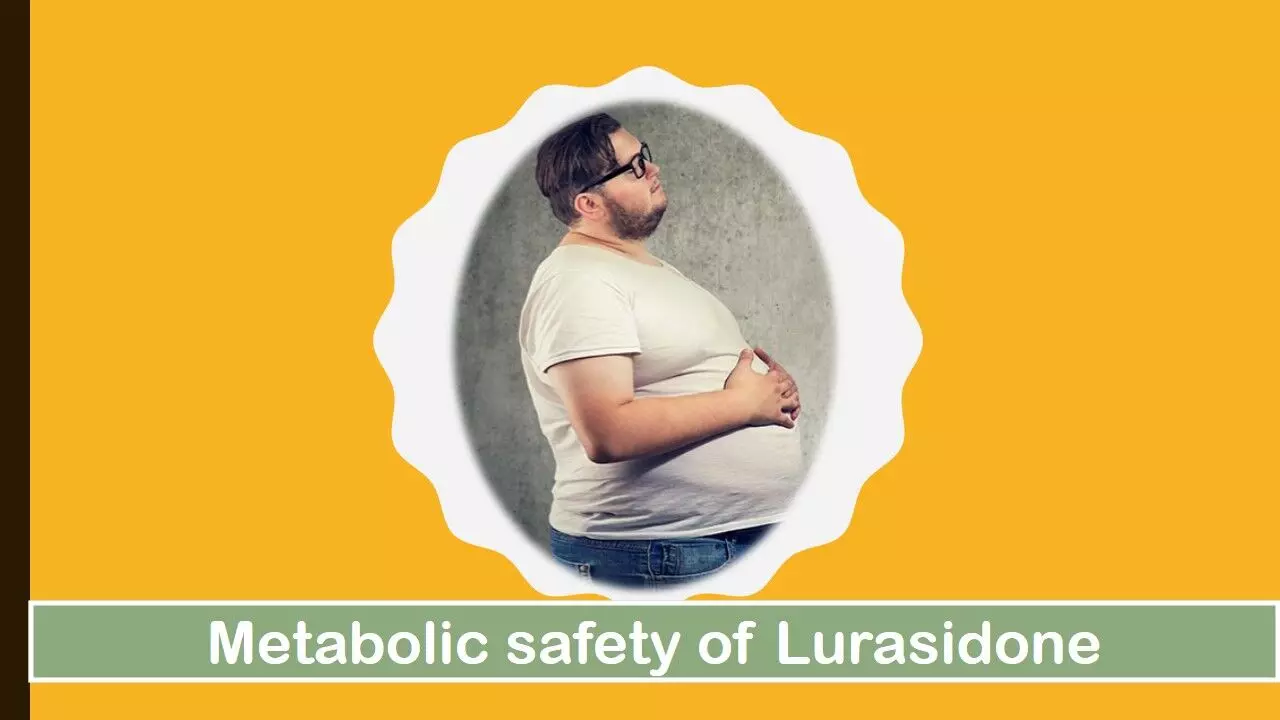 Schizophrenia (SCZ) commonly manifests in adolescent age group and atypical antipsychotics are recommended as its first-line treatment. However, these agents has been associated with an increased risk of developing metabolic syndrome especially in young patients. Amid these safety concerns, Lurasidone, an atypical antipsychotic, has now been shown to have minimal impact on weight and other metabolic parameters in young patients according to the results of a study published in European Psychiatry Journal by Isabella et al.

Second-generation (atypical) antipsychotics, the 1st choice in SCZ treatment, have been associated with metabolic syndrome (e.g- abdominal adiposity, hyperlipidemia, hyperglycaemia etc). This has raised safety concerns, especially given how frequently long term treatment is required. Lurasidone is an atypical antipsychotics with high binding affinity with D2, 5-HT2a and 5-HT7 receptors (antagonist), moderate affinity for 5-HT1a receptors (partial agonist) and no appreciable affinity for H1 and M1. Use of Lurasidone is associated with a low risk of weight gain and metabolic abnormalities, which may be attributable, at least in part, to its lack of activity at 5-HT2c and histamine H1 receptors.

The present study was a pooled post-hoc analysis from 6 studies which had similar study designs and outcome measures.
Patients were randomised to receive placebo, or fixed-dose, once-daily, oral lurasidone (in adult studies: 40mg, 80mg, 120mg and 160mg; in adolescent study 40mg or 80mg). Efficacy of the drug was assessed using Positive and Negative Syndrome Scale (PANSS) and the Clinical Global Impression- Severity Scale (CGI-S)m which were administered on baseline, day 3 or 4, day 7 and weekly thereafter.
A total of 537 patients were included in this analysis. Rates of premature study discontinuation were lower for lurasidone (all doses combined) compared to placebo (17.4% vs 27.6%). The least-square (LS) mean change from baseline to week 6 in PANSS and in CGI-S in total scores were significantly greater for all lurasidone dosage groups compared to placebo.
Coming to the primary question of safety profile, the following adverse events occurred during treatment with lurasidone
1. Nausea (13.5% vs 3.9% in placebo arm),
2. Somnolence (12.1% vs 5.0%),
3. Akathisia (10.1% vs 1.7%),
4. Parkinsonism (4.2% vs 0.6%),
5. Dizziness(3.9% vs 0.6%), dystonia (2.0% vs 0.6%).
6. Laboratory measures of cholesterol, triglycerides and glucose showed no clinical difference between lurasidone and placebo. Treatment with lurasidone was associated with dose-related increase in median prolactin levels in female patients, mostly in high dose (120-160mg) lurasidone group.
Efficacy results appeared to be robust, as indicated by consistently significant reduction in symptom severity observed for all doses of lurasidone, noted as early as week 1 and was consistently observed for consecutive weeks, as observed on the global CGI-Severity measure.
In adolescences and young adults with a diagnosis of SCZ choice of drug often represents a potential commitment to an especially long course of treatment with the chosen agent. While the efficacy is considered as the primary factor that determines the choice of drug, the tolerability and safety profile is perhaps as important as efficacy in making this treatment decision.
SCZ has been shown to shorten the life-span of patients by about 20 years due to primarily due to an increased cardiovascular mortality. Hence the use of Lurasidone, a metabolically safe drug, can be advocated as first line agent in adolescent and young adult SCZ patients. The metabolic safety profile is maintained across the 40 mg to 160 mg dose range.
Source: European Psychiatry Journal: Costamagna, I., Calisti, F., Cattaneo, A., et al. Efficacy and Safety of Lurasidone in Adolescents and Young Adults with Schizophrenia: A Pooled Post-hoc Analysis of Double-Blind, Placebo-Controlled 6-Week Studies. European Psychiatry, 1-23. doi:10.1192/j.eurpsy.2021.30