Rare case of bilateral fungus ball in lungs of a Covid positive male:JAPI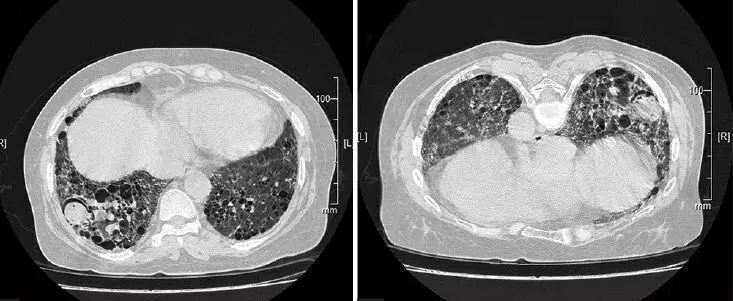 A very rare case of bilateral lung cavities with fungus ball, following a severe Covid 19 infection in a 55 years old male has been reported .The case report has been published in Journal Of Association Of Physicians In India.

Severity of Covid 19 can be associated with fever, rising inflammatory markers and signs of systemic inflammation, in the absence of secondary infection. Superadded bacterial or fungal infections can occur due to immune suppression.
"Severe Covid 19 infection leads to bilateral lung fibrosis which is evident on HRCT. However, to our knowledge very few cases of fungus ball in a COVID-19 patient's lungs have been reported. Here we present a case of severe Covid 19 infection who on follow up HRCT showed evidence of Bilateral cavities with fungus ball."quoted doctors from Department of Respiratory Medicine, Lokmanya Tilak Municipal Medical College and General Hospital, Mumbai.
The team reported a 55 year old male, known case of diabetes Mellitus, hypertension and ischemic heart disease status post percutaneous transluminal coronaryangioplasty(PTCA) who presented to the emergency department with history of low grade fever, cough with expectoration, progressive increase in dyspnoea and generalized weakness since 1 week.
Examination revealed a pulse rate of 130/min, patient was tachypnoeic with a respiratory rate of 36-40 breaths per minute. Finally he was diagnosed as SARS CoV2 positive by RT-PCR test of nasopharyngeal swab. His X-ray chest on admission showed Bilateral peripheral patchy opacities consistent with Covid 19 pneumonia. Due to progressive worsening of respiratory distress, the patient was put on CPAP by Non invasive ventilation. Patient was started on Hydroxychloroquine, doxycycline, ivermectin which was the standard treatment protocol at that time. Subsequently the patient also received lopinavir and ritonavir.
HRCT chest was done 4 weeks after his admission which showed diffuse areas of ground glass opacities and inter-intra lobular septal thickening in bilateral lung fields and patchy areas of consolidation in bilateral upper lobes. Due to persistent oxygen requirement, the patient was discharged on home oxygen therapy and oral steroids. A follow up HRCT Chest was done after one and a half month of previous CT scan which showed evidence of cavitary lesion in bilateral upper lobes with evidence of fungus ball within.
"We report this case of bilateral fungus ball in our patient post Covid 19 infection who did not have any past history of pulmonary tuberculosis, bronchiectasis, sarcoidosis or any preformed cavities to result in fungus ball formation. As depicted in the pictures, prior CT scan images did not show any evidence of a cavity which was later diagnosed at the follow up CT scan suggesting that the fungus ball was a complication after SARS CoV2 infection. Super added fungus ball in a cavity can be a complication in patients recovering from SARS CoV2 infection and can lead to increase morbidity and mortality. By reporting this case, we would like to make our readers aware about such a complication in Covid-19 infection."concluded the experts.
For full article , follow the link: https://www.japi.org/x2947434/bilateral-fungus-ball-an-uncommon-complication-post-severe-covid-19-infection
Source: Journal Of Association Of Physicians In India
Source : Journal Of Association Of Physicians In India