HIV drugs in coronavirus patients: ICMR scientists release protocol for restricted public health emergency use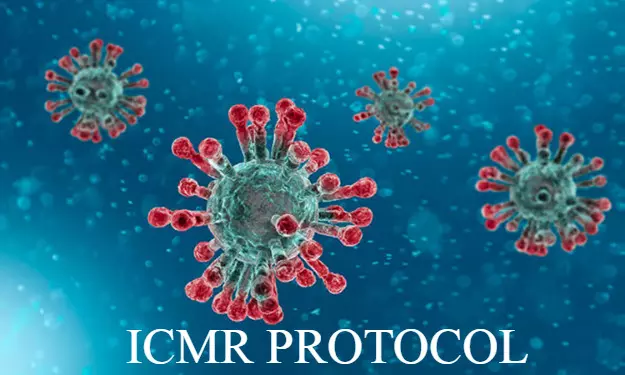 Lopinavir/ritonavir combination does not remain the mainstay treatment to COVID-19, researchers advise its usage in case of severe cases
New Delhi: With the rising cases of coronavirus being reported and the experimental treatment of HIV combination drugs showing positive results in case of patients at SMS hospital at Jaipur, a recent protocol for the use of such drug restricted public health emergency use has recently been released by ICMR scientists
The protocol has been published in the Indian Journal of Medical Research.
As of February 29, 2020, more than 85,000 cases of coronavirus disease 2019 (COVID-19) have been reported from China and 53 other countries with 2,924 deaths. Number of affected people in India rises to about 110 as of yesterday's report.
Read also : SMS Hospital gives Anti-HIV drugs to coronavirus-affected elderly Italian couple
In view of the earlier evidence about the effectiveness of repurposed lopinavir/ritonavir against severe acute respiratory syndrome (SARS) and the Middle East respiratory syndrome (MERS) coronavirus (CoV), as well as preliminary docking studies conducted by the ICMR, the CDSCO had approved the restricted public health use of lopinavir/ritonavir combination amongst symptomatic COVID-19 patients detected in the country.
If found useful in managing initial SARS-CoV-2-infected patients, further evaluation using a randomized control trial design is warranted to guide future therapeutic use of this combination, stated the researchers from ICMR.
Read Also: ICMR clarifies on use of anti-HIV drugs on coronavirus-affected patients
Proposed protocol:
This protocol is to be implemented along with the WHO guidelines on clinical management of severe acute respiratory infection when nCoV infection is suspected,
Eligibility criteria:
Hospitalized adult patients with laboratory-confirmed SARSCoV-2 infection with any one of the following criteria will be eligible to receive lopinavir/ritonavir for 14 days after obtaining written informed consent:
(i) respiratory distress with respiratory rate ≥22/min or SpO2 of <94%
(ii) lung parenchymal infiltrates on chest X-ray;
(iii) hypotension defined as systolic blood pressure <90mmhg or need for vasopressor/inotropic medication;
(iv) new-onset organ dysfunction; and
(v) high-risk groups - age >60 yr, diabetes mellitus, renal failure, chronic lung disease, and immunocompromised persons.
Exclusion criteria:
(i) A patient with hepatic impairment [Child Pugh C or alanine aminotransferase (ALT) over 5X the upper limit of normal];
(ii) Use of medications that are contraindicated with lopinavir/ritonavir and that cannot be replaced or stopped, e.g., rifampicin, benzodiazepines, simvastatin, voriconazole and sildenafil; and
(iii) Known HIV-infected individuals receiving other protease inhibitors containing regimens that cannot be replaced by lopinavir/ritonavir.
Dosage of lopinavir/ritonavir:
(i) Lopinavir/ritonavir 200 mg/50 mg - two tablets every 12 h for 14 days or for seven days after becoming asymptomatic, whichever is earlier; and
(ii) For patients who are unable to take medications by mouth, 400 mg lopinavir /100 mg ritonavir 5 ml suspension every 12 h for 14 days or seven days after becoming asymptomatic whichever is earlier, via a nasogastric tube.
Baseline laboratory investigations:
(i) Haemogram;
(ii) Liver function tests (LFTs);
(iii) Renal function tests (RFTs);
(iv) Haemoglobin A1c and blood sugar, if required;
(v) RT-PCR for SARS-CoV-2 (respiratory samples: nasopharyngeal swab, oropharyngeal swab, in addition, sputum, bronchoalveolar lavage (BAL), if available);
(vi) PT/international normalized ratio, electrolytes, arterial blood gas;
(vii) Lipid profile;
(viii) Chest X-ray;
(ix) Electrocardiogram (ECG);
(x) Hepatitis B and C; and
(xi) Other investigations as deemed appropriate by the treating physician
Laboratory sample collection (other than investigations for routine clinical monitoring):
(i) Oropharyngeal swabs (every third day) - for SARS-CoV-2 RT-PCR (samples to be transported to ICMR-National Institute of Virology, Pune, as per the guidelines);
(ii) Blood sample (every week) - Haemogram, LFT (alternate days), RFT and electrolytes (to monitor drug-induced adverse events);
(iii) ECG; and
(iv) Other investigations as deemed appropriate by the treating physician.
All samples would be stored for future-related tests.
Frequency and duration of monitoring:
(i) Patients should be monitored daily until discharge from the hospital and followed up till 90 days; and
(ii) Patients should be discharged on clinical recovery and after obtaining two consecutive negative RT-PCR results at least 24 h apart from oropharyngeal swabs (to demonstrate viral clearance).
Although lopinavir/ritonavir combination does not remain the mainstay treatment to COVID-19, researchers advise its usage in case of severe cases as there is no availability of vaccine till date. Also, they added that research is on-going on the development of an appropriate cure for COVID-19.
For further reading click on the following link,
Indian J Med Res, Epub ahead of print
Source : Indian Journal of Medical Research