Antibiotic Management in Covid-19: Scope of Doxycycline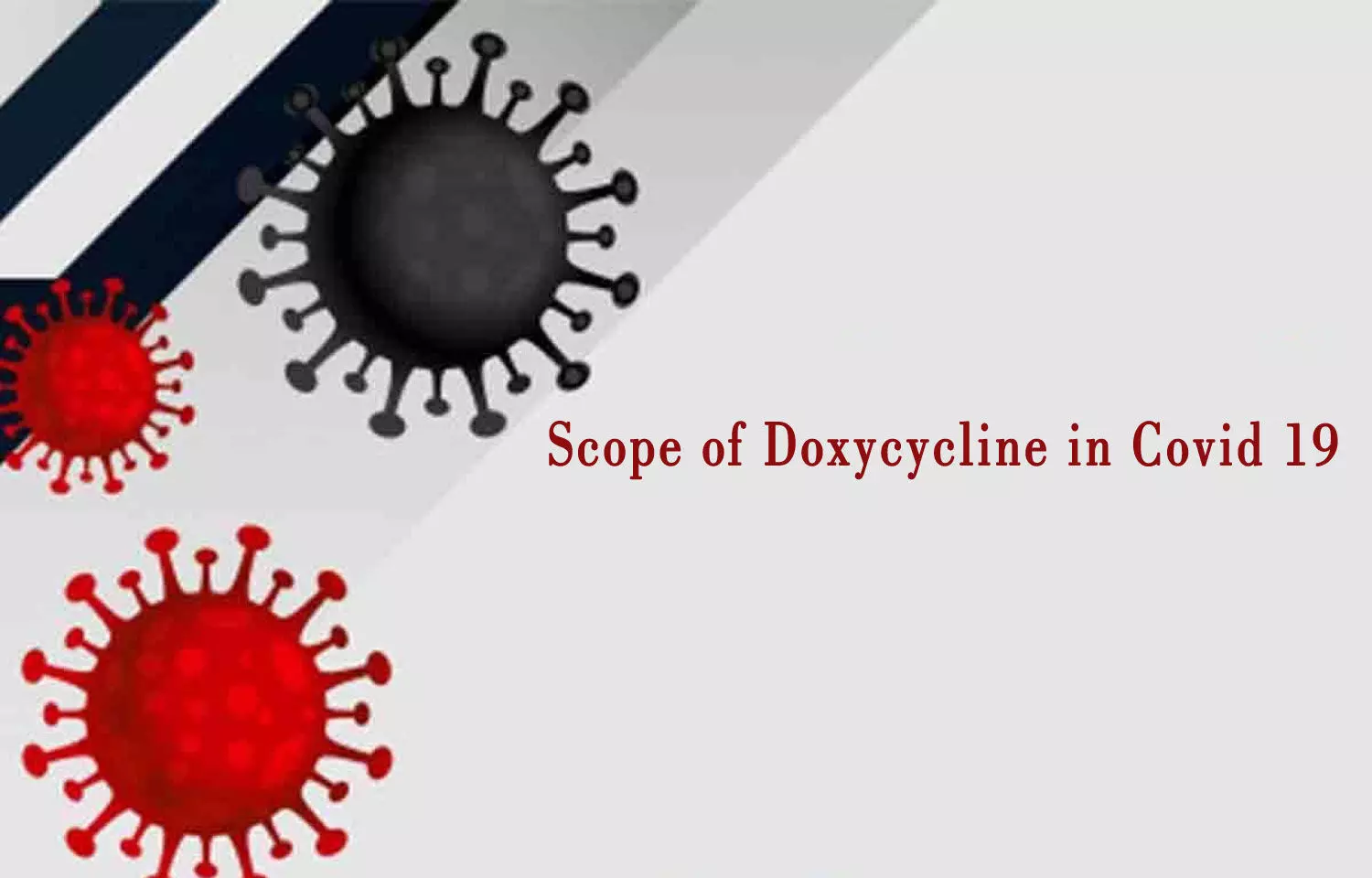 The coronavirus disease 2019 (COVID-19) pandemic, due to its characteristic novel severe acute respiratory syndrome coronavirus 2 (SARS-CoV-2), has caused a global sudden and substantial rise in hospitalization burden for pneumonia with multiorgan dysfunction. COVID-19 first recognized in December 2019, when a group of patients with pneumonia of unknown cause was identified in Wuhan, China.
Transmission of Coronavirus Disease 2019 (COVID-19)
Transmission of severe acute respiratory syndrome coronavirus 2 (SARS-CoV-2) happens mainly through respiratory droplets from face-to-face contact and, to a lesser degree, via contaminated surfaces. Aerosol spread may likely occur, but the role of such transmission in humans yet remains to be further confirmed. An estimated 48 % to 62% of transmission may occur via pre-symptomatic carriers.
Clinical Features
Common manifestations in hospitalized patients comprise of fever (up to 90%), dry cough (up to 86%), shortness of breath (up to 80%), fatigue (38%), myalgias (up to 44%), nausea/vomiting or diarrhoea (up to 39%), headache, weakness (25%), and rhinorrhea (7%). Anosmia or ageusia may be the sole presenting symptom in approximately 3% of individuals with COVID-19.
Diagnosis

Laboratory abnormalities indicate lymphopenia (83%), elevated inflammatory markers (e.g., erythrocyte sedimentation rate, C-reactive protein, ferritin, tumour necrosis factor-α, IL-1, IL-6), and abnormal coagulation parameters (e.g., prolonged prothrombin time, thrombocytopenia, elevated D-dimer and low fibrinogen).
Radiographic findings in patients with COVID-19 include bilateral, lower-lobe predominate infiltrates on chest radiographic imaging and bilateral, peripheral, lower-lobe ground-glass opacities and/or consolidation on chest computed tomographic imaging.
Doxycycline – Potential Choice of Antibiotic
While selecting an antibiotic, Doxycycline is cited as a potential partner in COVID-19 treatment armamentarium because of its anti-viral and anti-inflammatory effects, microbiological coverage against atypical bacterial pneumonia, and alleviating the lung sequel complications associated with COVID-19.
This is further substantiated by a recently published Asian observational study, bringing out real-life management strategy of COVID-19 Patients at a tertiary centre in Bangladesh, cited the use of Doxycycline, given at a dose of 100 mg, twice daily for 10 days added to standard care, resulting in favourable outcomes, acceptable recovery at the time of discharge and no mortality.
Scope of Doxycycline – Clinical Pointers in COVID-19 Management Armamentarium
√
Doxycycline is a broad-spectrum antibiotic with unique anti-inflammatory activity, pertinent to the pathophysiology of COVID-19.
√
Doxycycline possesses anti-viral properties; in-vitro studies indicating antiviral activity of against SARS-CoV-2 and potential role in overcoming respiratory distress sequels.
√
Doxycycline acts on the interleukin-6 (IL-6) pathway, thus may help in mitigating the cytokine storm which influences clinical outcomes in COVID-19. Doxycycline has proven efficacy in improving clinical outcomes in dengue, where it reduced inflammatory cytokines and improved mortality outcomes.
√
Doxycycline has endorsements for empirical use as one of the choices of antibiotics from certain global guidelines for the management of COVID-19.
√
Evidence from published scientific papers indicates the use of oral doxycycline 100 mg twice daily for 5-10 days in the treatment of COVID-19 patients.
√
Much relevant in the Indian practice settings, doxycycline is inexpensive, safe and easily available, garnering additional testimony from benefitting COVID-19 patients in a recently published Asian evidence.
Summary
While the vaccine is a few weeks to months away, and treatment modalities continue to evolve through the spectacle of emerging evidence and clinical experiences, doxycycline emerges as a promising consideration through multiple perspectives of scientific reasoning for use in the management of COVID- 19 – mechanistic, clinical benefits, past experiences, guideline recommendations, and meeting the Indian patient-centric feasibilities relevant in the real world practice settings.
References
1. Wiersinga WJ, Rhodes A, Cheng AC, Peacock SJ, Prescott HC. Pathophysiology, Transmission, Diagnosis, and Treatment of Coronavirus Disease 2019 (COVID-19): A Review [published online ahead of print, 2020 Jul 10]. JAMA. 2020;10.1001/jama.2020.12839. doi:10.1001/jama.2020.12839
2. Ganyani T, Kremer C, Chen D, et al. Estimating the generation interval for coronavirus disease (COVID-19) based on symptom onset data, March 2020. Euro Surveill. 2020;25(17). doi:10.2807/ 1560-7917.ES.2020.25.17.2000257
3. Mao R, Qiu Y, He JS, et al. Manifestations and prognosis of gastrointestinal and liver involvement in patients with COVID-19: a systematic review and meta-analysis. Lancet Gastroenterol Hepatol. 2020; 5(7):667-678. doi:10.1016/S2468-1253(20)30126-6
4. Levi M, Thachil J, Iba T, Levy JH. Coagulation abnormalities and thrombosis in patients with
COVID-19. Lancet Haematol. 2020;7(6):e438-e440. doi:10.1016/S2352-3026(20)30145-9
5. Malek AE, Granwehr BP, Kontoyiannis DP. Doxycycline as a potential partner of COVID-19 therapies. IDCases. 2020;21:e00864. Published 2020 Jun 6. doi:10.1016/j.idcr.2020.e00864
6. Faizul Huq A, Rahman MF, Islam MA, et al. Real-life Management Strategy of COVID-19 Patients in Bangladesh with No Death: An Observational and Cohort Study. Euroasian J Hepatogastroenterol. 2020;10(1):31-35. doi:10.5005/jp-journals-10018-1316
7. Vanlaere I, Libert C. Matrix metalloproteinases as drug targets in infections caused by gram-negative bacteria and in septic shock. Clin Microbiol Rev 2009, doi:http://dx.doi.org/10.1128/CMR.00047-08.
8. In vitro antiviral activity of doxycycline against SARS-CoV-2 – IHU. [cited 2020 Apr 23]. Available from: https://www.mediterranee-infection.com/invitro- antiviral-activity-of-doxycycline-against-sars-cov-2
9. Wu C, Liu Y, Yang Y, et al. Analysis of therapeutic targets for SARS-CoV-2 and discovery of potential drugs by computational methods. Acta Pharm Sin B 2020, doi:http://dx.doi.org/10.1016/j.apsb.2020.02.008.
10. Fredeking TM, Castro JEZ, Vado-Solis I, Perez-Osorio C. Modulation of cytokine and cytokine receptor/antagonist by treatment with doxycycline and tetracycline in patients with dengue fever. Clin Dev Immunol 2011, doi:http://dx.doi.org/10.1155/2011/370872.
11. COVID-19 rapid guideline: antibiotics for pneumonia in adults in hospital, NICE guideline Published: 1 May 2020 www.nice.org.uk/guidance/ng173
12. Massachusetts General Hospital (MGH) COVID-19 Treatment Guidance, July 2020, Version 6.1 7/1/2020