Molnupiravir (MK-4482/EIDD-2801) inhibits SARS-CoV-2 replication in Syrian Hamster Model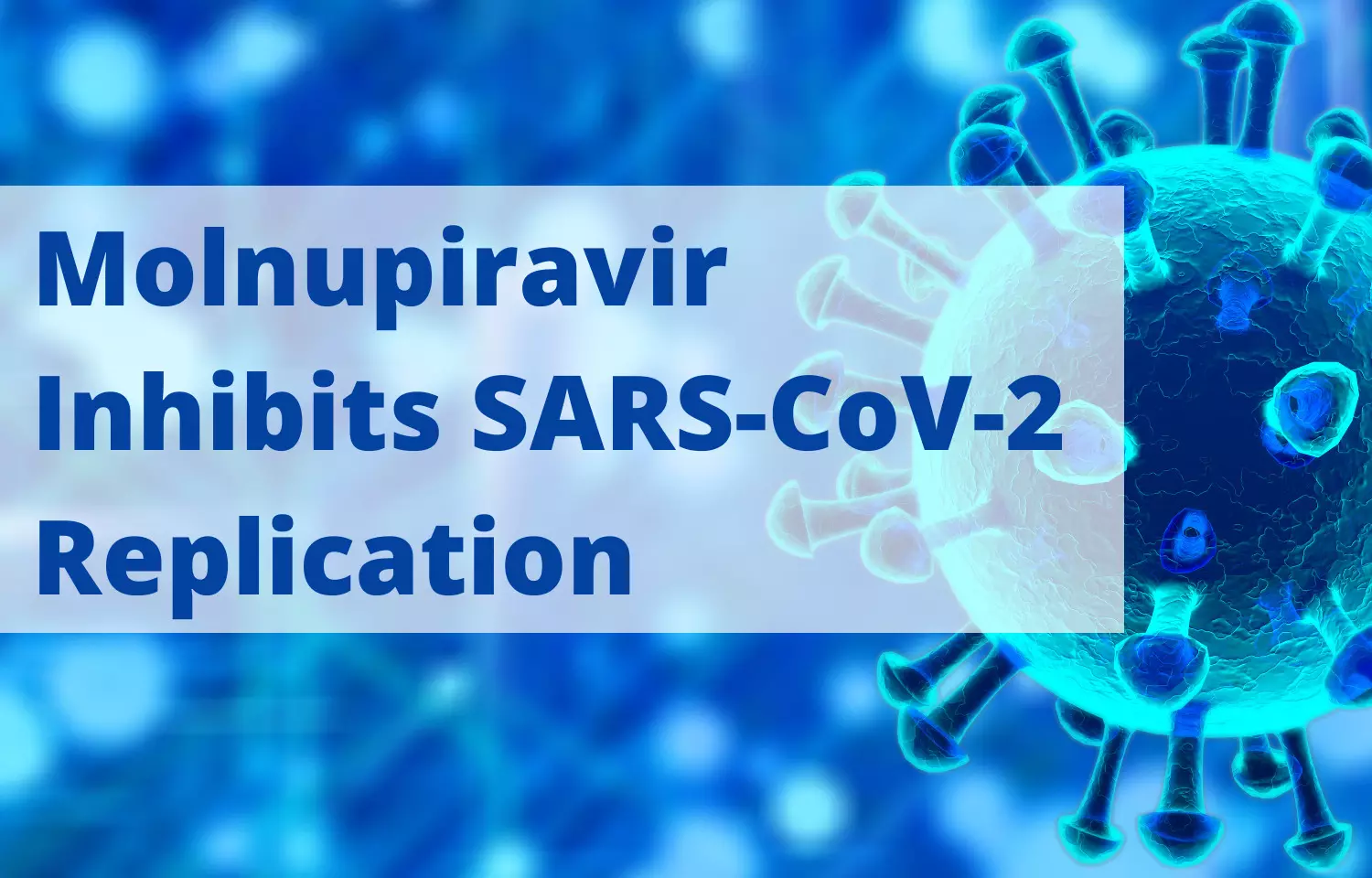 An effective antiviral against SARS-CoV-2 that could be administered orally for use following high-risk exposure would be of substantial benefit in controlling the COVID-19 pandemic. The current study showed that MK-4482 (Molnupiravir) an orally administered nucleoside analog, inhibits SARS-CoV-2 replication in the Syrian hamster model and when administered either starting at 12 h prior to SARS-CoV-2 infection,or even 12 h post-infection, significantly decreases viral lung loads and pathology, but does not affect shedding from the upper respiratory tract. The study also determined a half-maximal inhibitory concentration(IC50) value for EIDD-1931. MK-4482 (known previously as EIDD-2801) is an orally administered bioavailable prodrug (5′-isobutyric ester form) of the cytidine nucleoside analog EIDD-1931 (β-D-N4-hydroxycytidine; NHC).

Study design:
Hamsters were divided into groups for either pre-infection or post-infection MK-4482 treatment (n = 6 per group). A third group consisted of vehicle control animals that received the same dosing schedule and volume as the pre-infection group.
Groups were then treated with MK-4482 (250 mg/kg) at 12 h and 2 h prior to infection (pre-infection group) or 12 h following infection (post-infection group).
Treatment was then maintained with 12 h dosing until the completion of the study 84 h post-infection (day 4).
Results:
In-vitro inhibitory effect of EIDD-1931 on SARS-CoV-2 replication in Calu-3 cells:
EIDD-1931 treatment resulted in a decrease in SARS-CoV-2 replication by approximately 3-logs (880-fold)when compared to no drug controls.
The IC50 value for EIDD-1931 was shown to be at sub-micromolar levels in Calu-3 cells at 414.6nM.
Absence of toxicity - Viability was assessed over differing concentrations, demonstrating only minimal cellular toxicity at the highest drug concentration(EIDD-193140μM).
Efficacy of the MK-4482 prodrug in the Syrian hamster model:
Virus shedding: Levels of viral RNA in the oral cavity decreased from day 2 to 4but were similar between all groups at these two-time points of analysis (~ 108 and 107, for days 2 and4 post-infection, respectively).
Lung tissue samples: A 1-log decrease in viral RNA was detected in the lungs of pre-infection and post-infection groups, respectively, when compared to the vehicle control group, which corresponded to a 2-log decrease in infectious virus in the lungs of the MK-4482 treated groups when compared to the vehicle controls.
Immunoreactivity against SARS-COV-2 antigen: Vehicle controls contained significantly more antigen than treated groups, with vehicle controls having on average 4.71 times more antigen signal than pre-infection treatment animals and 3.68 times more signal than post-infection treatment animals.
Level of MK-4482 in lungs: All treated animals displayed detectable levels of EIDD-1931 in lung and levels were similar across treatment groups (pre-infection: 18.80 ± 5.97 nmol/g lung, post-infection 17.56 ± 5.49 nmol/g lung).
RNA copying errors: Viral genomes from MK-4482 treated animals had a significant accumulation of nucleotide substitutions. These results are consistent with the RNA copying errors function of MK-4482 in reducing infectious virus and disease intreated animals
This study supports the potential utility of Molnupiravir to control SARS-CoV-2 infection in humans following high-risk exposure as well as for the treatment of COVID-19 patients.

Take away
• Molnupiravir has an advantage of oral administration.
• Initiation of Molnupiravirwithin 12 h of a productive exposure resulting in infection significantly reduces SARS-CoV-2 replication and associated pathology in the lung target organ.
Reference:
Rosenke K, Hansen F, Schwarz B, Feldmann F, Haddock E, Rosenke R, Barbian K, Meade-White K, Okumura A, Leventhal S, Hawman DW, Ricotta E, Bosio CM, Martens C, Saturday G, Feldmann H, Jarvis MA. Orally delivered MK-4482 inhibits SARS-CoV-2 replication in the Syrian hamster model. Nat Commun. 2021 Apr 16;12(1):2295. doi: 10.1038/s41467-021-22580-8. PMID: 33863887; PMCID: PMC8052374.