Revisiting the need for Early management of Influenza: Role of Oseltamivir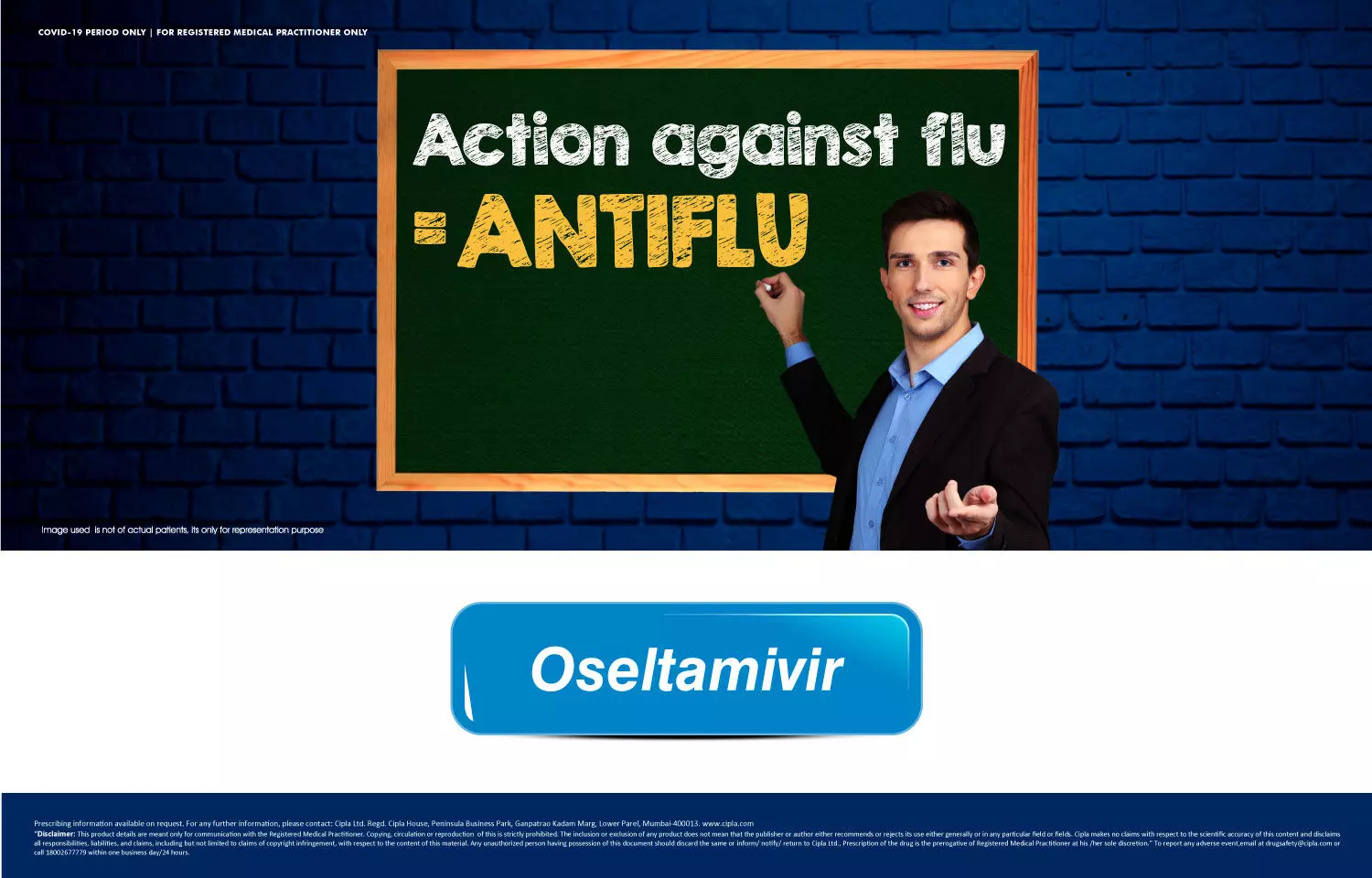 Influenza, commonly known as flu, is a contagious viral infection caused mainly due to influenza viruses A and B (1). It usually attacks the respiratory system (i.e., the nose, throat, bronchi, and infrequently, lungs) and is observed to be recurring globally in seasonal, epidemic, and pandemic patterns, by virtue of continuous antigenic changes. (1)

Global prevalence
The influenza epidemic has turned out to be a major health burden highlighting a dramatic increase in emergency hospital visits and rising healthcare concerns. Though infection rates are highest in children, the elderly, and those with underlying chronic conditions are also at considerable risk of serious morbidity and mortality. (1) Considered to be one of the leading causes of global morbidity and mortality each year, influenza infects approximately 10%-20% of the world's population resulting in 3-5 million hospitalizations. (2)
Recording 21 million deaths worldwide, the 1918-1919 influenza outbreak has been documented to be the 'greatest medical holocaust in history.' This was followed again by the 1957 H2N2 pandemic, the 1968 H3N2 pandemic, and the 2009 influenza A(H1N1) virus pandemic. (3)
Despite the wide availability and use of vaccines and conventional anti-viral drugs, epidemics of influenza continue to grapple the world. Managing the disease itself, while counteracting its related complications, has been a matter of great challenge for physicians.
Complications of Influenza-Analysing the seriousness of the situation
Influenza, though primarily results in pathology limited to the respiratory system, has frequently been associated with several clinical syndromes that involve organ systems outside the respiratory tract.
Pulmonary Complications (4)
The most frequent serious complications of influenza are pulmonary and include primary viral pneumonia, secondary bacterial pneumonia, pneumonia attributable to unusual pathogens, and exacerbations of chronic underlying pulmonary diseases such as COPD and asthma.
Extrapulmonary complications (2)
Neurologic complications, identified as influenza‐associated encephalitis or encephalopathy (IAE) and post-influenza encephalitis, are frequent in children and are increasingly being reported in adults.
Cardiovascular complications of influenza infection like exacerbation of heart failure, acute ischemic heart disease, and less often acute myocarditis are important contributors to morbidity and mortality during influenza infection. Ischemic cardiovascular accidents (CVA) have also been reported in influenza patients.
Direct conjunctival invasion by the influenza virus can lead to ocular diseases including conjunctivitis, retinopathy, uveal effusion syndrome, and optic neuritis.
Direct conjunctival invasion by the influenza virus can lead to ocular diseases including conjunctivitis, retinopathy, uveal effusion syndrome, and optic neuritis.
Influenza infection can also affect renal function through several complications including acute kidney injury (AKI), acute glomerulonephritis, minimal change disease, and acute tubulointerstitial nephritis (ATN).
Influenza infection is associated with a variety of hematologic complications including thromboembolic disease, thrombotic thrombocytopenic purpura (TTP), hemolytic-uremic syndrome (HUS), and hemophagocytic syndrome (HPS).
Further, influenza has been confirmed to be the most common cause of virus-associated rhabdomyolysis.
What do guidelines say?
Oseltamivir is now on the list of World Health Organization essential drugs. (5)
WHO recommends patients who have severe or progressive clinical illnesses should be treated with oseltamivir as soon as possible. If higher-risk individuals have been exposed to a patient with influenza, consider presumptive treatment with oseltamivir. (6)
US FDA has approved Oseltamivir for prophylaxis of uncomplicated influenza A and B. (7)
Benefits of Early treatment
As accumulating evidence highlights that antiviral medications prevent complications from seasonal influenza if started within 48 hrs, a comprehensive review analyzing the benefits of timely intervention with Oseltamivir, is the need of the hour.
Role of Oseltamivir in prophylaxis, reducing the intensity of complications and disease spread
Oseltamivir is a well-tolerated orally active neuraminidase inhibitor that has shown to significantly lower the duration as well as the severity of the illness, hastening the return to normal levels of activity when initiated promptly in patients with naturally acquired influenza.
Therapeutic Efficacy -
Oral oseltamivir 75mg twice daily for 5 days significantly reduced the duration of naturally acquired febrile influenza by 1.3 to 1.5 days (p < 0.05) and illness severity by up to 38% (p ≤ 0.01) compared with placebo when initiated in the early stages of infection (i.e. within 36 hours of symptom onset). Furthermore, the incidence of secondary complications (i.e. otitis media, sinusitis, bronchitis, and pneumonia), and the use of antibacterials, were significantly reduced by oseltamivir compared with placebo. A higher dosage of oseltamivir (150mg twice daily for 5 days) did not appear to have any further impact on efficacy end-points. Evidence suggests that earlier initiation of therapy is associated with faster resolution of symptoms. (8)

Oseltamivir (2 mg/kg twice daily for 5 days) significantly reduced the median duration of illness and the severity of illness compared with placebo in children(aged ≥1 year) with influenza in a well-controlled study. (8)

The results reported in various studies indicate the drug may also be effective in the treatment of influenza in high-risk populations, such as the elderly or those with chronic cardiac or respiratory disease. (8)
Prophylactic efficacy -
Evidence from studies suggests that oral administration of oseltamivir 75mg once or twice daily for 6 weeks during a period of local influenza virus activity significantly prevents the development of naturally acquired influenza compared with placebo in unvaccinated, otherwise healthy individuals. The drug afforded protection in >70% of exposed patients during a 6-week treatment period. (8)

Prophylaxis with oseltamivir 75mg once daily for 6 weeks was also effective when used as adjunctive therapy in vaccinated high-risk elderly patients (92% protective efficacy). When administered promptly for household prophylaxis (i.e., starting within 48 hours of symptom onset in an infected person), 1 week's treatment with oseltamivir 75mg once daily significantly reduced the risk of illness by 89% compared with placebo in household contacts. (8)
Key pointers -
With studies consistently pointing out the complications, morbidity, and mortality associated with influenza, the hidden burden associated with the disease cannot be underestimated.
Regardless of the already popular drug therapies and vaccinations, this disease is yet to be under control.
Under such scenarios, the use of Oseltamivir for the treatment or prophylaxis of febrile influenza has been investigated in an ample number of studies and has shown significant efficacy in managing the same, both in adults and children.
Summary and way forward-With worldwide studies acknowledging the potency of Oseltamivir in successfully managing influenza and its complications, it is high time that physicians focus on this drug to be an effective adjunct in treating influenza. Encouraging results from researches will direct whether this drug can be the potential first-line drug in influenza epidemics. The onus rests upon physicians to explore the full potentiality of Oseltamivir in future years.
References
Moghadami M. (2017). A Narrative Review of Influenza: A Seasonal and Pandemic Disease. Iranian journal of medical sciences, 42(1), 2–13.

Sellers, S. A., Hagan, R. S., Hayden, F. G., & Fischer, W. A., 2nd (2017). The hidden burden of influenza: A review of the extra-pulmonary complications of influenza infection. Influenza and other respiratory viruses, 11(5), 372–393. https://doi.org/10.1111/irv.12470

Saunders-Hastings, P. R., & Krewski, D. (2016). Reviewing the History of Pandemic Influenza: Understanding Patterns of Emergence and Transmission. Pathogens (Basel, Switzerland), 5(4), 66. https://doi.org/10.3390/pathogens5040066

Rothberg, Michael B. MD, MPH; Haessler, Sarah D. MD Complications of seasonal and pandemic influenza, Critical Care Medicine: April 2010 - Volume 38 - Issue - p e91-e97 doi: 10.1097/CCM.0b013e3181c92eeb

Jefferson, T., Jones, M., Doshi, P., Spencer, E. A., Onakpoya, I., & Heneghan, C. J. (2014). Oseltamivir for influenza in adults and children: systematic review of clinical study reports and summary of regulatory comments. Bmj, 348.

WHO Guidelines for Pharmacological Management of Pandemic Influenza A(H1N1) 2009 and other Influenza Viruses Revised February 2010

Agrawal, R., V Rewatkar, P., R Kokil, G., Verma, A., & Kalra, A. (2010). Oseltamivir: a first line defense against swine flu. Medicinal Chemistry, 6(4), 247-251.

Karen McClellan, Caroline M. Perry (2001). Oseltamivir. , 61(2), 263–283. doi:10.2165/00003495-200161020-00011