Pune: Doctor shot dead by husband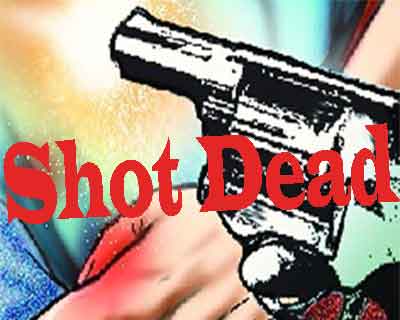 Pune: In an unfortunate incident a Ggynecologist in pune has been shot dead by her husband. Dr. Anjali Patidar (34), the third wife of Manoj Patidar (40), was shot dead with a country made pistol at close range by her husband, a software engineer with a Hinjewadi based IT major. Anjali, a gynaecologist met with instant death at her clinic on Wakad Road, close to her rented house, late on Wednesday night.
The two earlier wives of Manoj according to information had committed suicide under mysterious circumstances in Mumbai and Haveli in Pune.
Anjali was lying on a sofa next to her son Prayag who was in deep sleep when Manoj walked in and fired that life taking shot at her temple from close range. The minute she collapsed Manoj fled the clinic leaving behind his sleeping son and a bleeding Anjali.
Manoj was nabbed by the police from Narhe on the Katraj Dehu Road bypass within an hour of receiving his mother's phone call at the police station admitting that her son had called to tell her that he had injured Anjali at the clinic and walked away. The police are yet to recover the pistol he used. According to him he threw the weapon on his way while driving in the car.
Prima facie, the incident seems to be a result of a feud between the man and his wife. Manoj suspected Anjali of seeing someone else said Assistant Inspector, M K Adling, Wakad police station.
The victim's clinic is located at Ashirwad Regency Building, Wakad chowk, very close to their residence at Ozone Springs Society. The people at the two shops adjacent to the clinic, those of laundry and real estate heard nothing of the scuffle or gun shot. However, it was the dead lady gyanecologist's son Prayag who on waking up raised the alarm, when his mother who lay in a pool of blood did not move or wake up despite his repeated calling.
Her lack of response had the boy come out of the clinic and start crying. On being asked for a reason for his crying, Prayag said, "Aai zopli aahe ani uthat nahi (mother is fast asleep and not getting up.")
The man went in to find the doctor lying unconscious in a pool of blood. Without wasting time he ran to the half a km away Wakad police station and when he returned with the police, Anjali was no more. A fact confirmed by Adling.
Adling also acknowledged that while they were at the clinic Anjali's brother Amar Chandnao reached there from his residence at Lohegaon.
He said that he had received an alert from an unknown number informing him that his sister was injured and lying unconscious on the floor.
According to Chandnao, he had received a call from his sister at 8 pm informing him that her husband had been beating her at the clinic, pleading to him to come immediately.
"Chandnao told us that he had told his sister that he would file a complaint against Manoj. He said he was about to leave for Wakad when he got the call from the unidentified number," Adling said.
The police allowed Chandnao to take Prayag to his house. Chandnao was not available to the press when contacted.
Arrested in drunken state
Attempts to get in touch with Manoj started the moment the police got his number from the mother, who was visiting the sons along with her husband and staying with her other child at Vadgaonsheri. It is believed that Manoj had called his mother immediately after firing a shot at his wife.
Once contact with the accused was established, the police spoke to him who pretended to be at Katraj with a flat tyre. Asked about the altercation with his wife, he pretended nothing of the sort had happened, said the police officer.
"Asked about the quarrel with his wife, Manoj told us that nothing had happened," the officer said. The police finally managed to trace him at Narhe driving a car with a flattened tyre. According to them, he was in a drunken state when taken into police custody.
On interrogation, Manoj confessed to having shot his wife with a pistol that he had thrown away on his way after shooting his wife, the officer said. Manoj was produced before the court on Thursday and remanded in police custody for four days.
Narration
During interrogation Manoj revealed that he visited his wife's clinic thrice on that fateful evening. The first visit being at 7 pm, Wednesday, when he had an altercation with her over a domestic issue, revealed a police officer. The second visit to the clinic happened at 8pm which had the two quarrel outside the premises and the final visit took place at 9pm.   Manoj fired at Anjali at point blank range and  she fell on the couch, next to her sleeping son. Manoj immediately stepped out leaving the two on the couch together.
Anjali harassed for two years
According to police officer, Londhe, Anjali's brother Chand nao had filed a complaint stating that Manoj had been harassing Anjali for the past two years. He would not give her running expenses for the son and since her clinic was not doing well, she often took the elder brother's help.
Pistols acquired two years ago
During questioning, Manoj said he had purchased the illegal pistols for Rs. 20,000 from Gwalior in Madhya Pradesh, two years ago for self-protection. An altercation with local people had made him take the decision. A friend having supported the proposition.
Patidars were recluses
A local resident of the Ozone Springs Apartment choosing to remain annonymous said that the Patidars were staying in the rented flat for the past few years and did not mix with anybody. Mrs Patidar merely spoke to the guard for the electricity and water bills.