Pune: Husbands of patients booked under PC-PNDT Act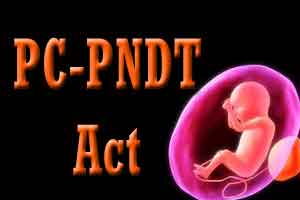 Pune: In what may be thought off as a precedence setting move, the PNDT officials have arrested husbands of two patients who were caught undergoing sex determination tests in the city.
Reportedly, these patients were undergoing ultrasounds inside a car on a Solapur Road with the help of a portable ultrasound machine. The so-called doctors, who were performing the test, were later revealed to be AYUSH practitioners.
This came to notice after a regular police patrolling at a road in Indapur revealed two women, now identified as Sunita Vilas Dange and Balika Popat Chavan undergoing sex determination inside the car with the help of a portable machine. The police became suspicious after the noticing the car being parked for a long time, and upon inquiry came to know about the crime being performed
The PNDT officials immediately reached the spot and caught the culprits.
"We noticed that Gade (Dr Tushar Gade from Mhaswad, Satara) and More ( Dr Hanumant More, from Malshiraj, Solapur), both of whom held Bachelor of Ayurveda, Medicine and Surgery (BAMS) and Bachelor of Homoeopathic Medicine and Surgery (BHMS) degrees, were performing a sonography on two women who already had female children. One woman confessed to having three, and the other, five daughters. They were forced by their husbands to undergo sonography, so that they do not give birth to a girl child again," Pune district civil surgeon Dr Sanjay Deshmukh told
Pune Mirror
.
A source from the Pune division of PCPNDT department informed TOI, "The accused are now in Indapur police custody. They said they had bought a machine of Chinese make from an exhibition in Delhi for Rs 1.5 lakh and have been performing sex determination tests for the past one year or so. They charged couples between Rs 8,000 and Rs 10,000 for every sex determination test."
The authorities have now lodged an FIR under the PC-PNDT along and are planning to write to the MMC against the doctors on account of crosspathy. In what may be called as a landmark move, the authorities will also file a case against the husbands of the patients,  Vilas Dange and Popat Chavan in the court.