Punjab: Authorities bust sex determination racket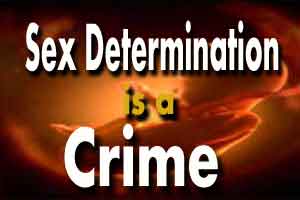 Sultanpur Lodhi: In a crack down on illegal sex determination tests, five persons, including a woman and three medical practitioners , were arrested from Sultanpur Lodhi in Kapurthala district of Punjab, officials said.
A three-member team, including medical officer Dr Pawan Chaudary, Dr Vipin Bhandari and Dr Mandeep Sachdeva raided the Amanpreet Hospital and found a lady doctor performing a sex-determination test on a woman on the complaint of Kapurthala health department , reports HT
On Kapurthala health department's complaint , police have booked seven persons, including Dr Sandeep Kaur, the duty doctor of the Amanpreet Hospital under sections 420 (fraud), 120B (criminal conspiracy) of the Indian Penal Code and Pre-Conception and PreNatal Diagnostic Techniques (PCPNDT) Act, 1994.
Five others arrested are identified as Ashok Kumar, Virender, Rinkal, Shamsher Singh and Ravinder Pal Kaur, while efforts were on to nab Dr Sandeep Kaur and another accused Inderjit Singh who were still at large, an official release by the Health Department said.
Among those arrested, two persons belong to Ambala Cantt, while the others are from Ludhiana, Civil Surgeon Dr Vinod Gupta said.
On a tip-off that Ashok Kumar and Virender Singh took women to Punjab for getting the sex determination test done for Rs 25,000, a team of the Health Department, assisted by the police, sent a decoy patient who contacted the duo.
The decoy patient was asked to reach Kalka Chowk at 5 PM, from where she was taken to Ludhiana, where they met the other accused Rinkal, Shamsher Singh and Ravinder Pal.
The accused took her to a private hospital at Sultanpur Lodhi where sex determination test was allegedly conducted by Dr Sandeep Kaur, they said.
A case has been registered against the accused at Sultanpur Lodhi police station under the Pre-Conception and Pre-Natal Diagnostic Techniques (PC-PNDT) Act.
Read also: Four employees of private hospital arrested for sex determination
Read also: Punjab govt to engage private detectives to curb sex determination tests