Punjab: Two doctors face suspension for acting as ghost faculties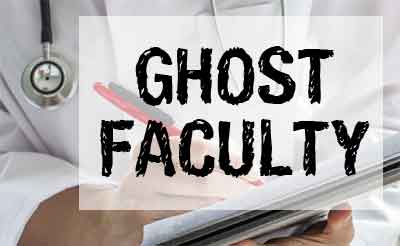 Punjab: Re-enforcing its stance against ghost faculties, the Punjab Medical Council has issued suspension of two doctors associated with the Patiala government medical college, who were found acting as ghost faculties in Haryana's private medical colleges.
One year suspension has been ordered for Dr Ardaman Singh, Professor of Medicine, and Dr Ravdeep Singh, SR forensic department at GMC patiala.
This comes after the doctors were found by the MCI being associated with more than one medical college in the same academic year. MCI inspections found  Dr Ardaman Singh as being the medicine professor at Patiala GMC on on November 17, 2014, and  then again being enrolled on the faculty list of Kaithal's Haryana Institute of Medical Science on April 18 2015.
Similarly, Dr Ravdeep was shown as teacher in both colleges in April/May last year, reports HT.
The doctors were accorded, a hearing by the MCI, where they pleaded their innocence. "I was at the Patiala college indeed during the 2014 inspection," Dr Ardaman said, "but after my retirement in March last year, I joined the Kaithal college, which I quit a few months later when the Patiala institute re-employed me."
Dr Ravdeep Singh said "My name appeared at two places because I was assistant professor in the Kaithal college before joining at Patiala."
MCI not convinced with their explanations wrote to the Punjab Medical Council, directing their suspension. This comes with the fact that the said doctors are registered with the State Medical Council of Punjab.
The two faculties have informed
HT
that they have challenged the said MCI ordered in the State high court, with one adding that the high court has also stayed his suspension.
However,Dr GS Grewal, PMC preisdent told the daily that he had received no such orders.  "We expect a similar MCI action against more doctors working as ghost teachers." he said.
"The practice of hiring private doctors for the inspection period is a common tactic to secure the MCI recognition. It hampers the quality of medical education," he added.
This is the second round of suspension ordered by PMC on account of ghost medical faculties in a span of 10 days.