Put the Board of Available Medicines in Hospital, Says Kejriwal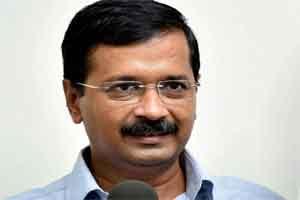 New Delhi: Acting strong on the free medicine policy at Delhi government hospitals, Delhi chief Minister Arvind Kejriwal has visited Maharishi Valmiki Hospital and directed the officials to put up boards to inform patients about free medicines available in hospital.
The Chief Minister met many patients at the Bavana hospital and inquired the patients about the availability of free medicines. One of a patient told him that he did not get medicines from the hospital.
Recently, Kejriwal said that the Delhi government will act against officers responsible for "non-payment" of bills to suppliers of medicines in its hospitals and may "deduct" salaries of officers behind lapses, Chief Minister Arvind Kejriwal has said.
Kejriwal has laid down the instruction in a letter to Chief Secretary M M Kutty on the issue that came to the fore during his recent surprise inspection of the Sanjay Gandhi Hospital.
In last month May, Kejriwal visited Sanjay Gandhi Hospital and found several deficiencies, after that the Delhi government directed the Chief Secretary to ensure that Delhi government-run hospitals have all necessary medicines after a report said that there was only 50 per cent availability of drugs.
Read also:
Delhi: Kejriwal inspects Sanjay Gandhi Hospital, finds several deficiencies