Ultrasound lungs better than X-rays in COVID pneumonia screening; finds study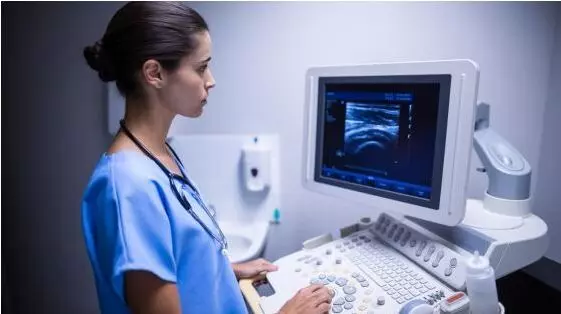 According to a recent research report,Portable ultrasound scans were more sensitive than x-rays at the preliminary detection of atypical pneumonia in patients who may have COVID-19. The new data has been put forth in a presentation at the virtual American College of Emergency Physicians meeting by Ryan C. Gibbons, of the Lewis Katz School of Medicine at Temple University in Philadelphia.

While a definite diagnosis of COVID 19 is based on microbiological evidence, the relationship between lung ultrasound (LU) and traditional chest xray in the diagnosis and management of COVID-19 is less clear. Lung ultrasound is a point-of-care imaging tool that proved to be useful in the identification and severity assessment of different pulmonary conditions, particularly in the setting of emergency and critical care patients in intensive care units; as shown in previous studies.
To gain a more clear perspective on this field,The research team prospectively tracked 143 consecutive potential COVID-19 patients who presented at an Emergency Department. Each patient was screened via handheld ultrasound and portable x-ray. Those at high-risk, and those who showed abnormal findings, were sent for CT scans.Physicians interpreted 99 ultrasound scans and 73 x-rays as positive. The CT scans confirmed that 75% (95% CI 66.0-83.2) of these patients had atypical pneumonia.
Results further revealed a Specificity of 33.3% (95% CI 16.5-54.0) for ultrasound and 44.4% (95% CI 25.5-64.7) for x-ray.
The study findings are validated and supported by another Philadelphia physician and it mirrored the findings of his own research – about the accuracy of ultrasound versus x-ray screening for atypical pneumonia in COVID-19.
"Common findings with ultrasound in COVID-19 patients include thickened irregular pleural lines, vertical artifact (B-lines) which represent inflammatory changes in the lung, and absence of normal horizontal artifacts (A-lines)," said Laith R. Sultan, of the department of radiology at the University of Pennsylvania. He went on to add that "findings from COVID-19 pneumonia can have similarities with findings from other viral causes of pneumonia. In our article, we showed that some findings are very specific to COVID-19, e.g., the skip area seen in pleural lines and B-lines and absence of blood flow on Doppler. These findings can be related to the acute inflammatory process that take place in COVID-19."
Primary Source: American College of Emergency Physicians
Source Reference: Gibbons R "Lung ultrasound versus chest x-ray for the diagnosis of COVID-19" ACEP 2020; Abstract 6.
Source : American College of Emergency Physicians