Rajasthan: 10 years jail for PC-PNDT violations from now on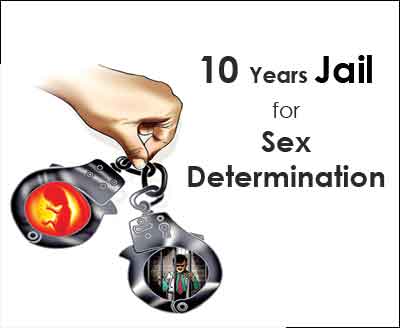 Jaipur: Punishment for sex determination activities just got harder in the state. It is reported that state government has now started booking sex determination crimes under Section 315 of the IPC, which calls for upto 10 years jail or fine or both for violations. It is reported that the said section of the Indian Penal Code pertains to an 
Act done with intent to prevent child being born alive or to cause it to die after birth
and thus calls for higher punishment than the provisions of the PC-PNDT Act
.
In particular, Section 315 of the Indian Penal Code specifies
 Act done with intent to prevent child being born alive or to cause it to die after birth.—Whoever before the birth of any child does any act with the intention of thereby preventing that child from being born alive or causing it to die after its birth, and does by such act prevent that child from being born alive, or causes it to die after its birth, shall, if such act be not caused in good faith for the purpose of saving the life of the mother, be punished with imprisonment of either description for a term which may extend to ten years, or with fine, or with both.
This is contrast to the PC-PNDT ACT, violations under which call for imprisonment for a term which may extend to three years and with fine which may extend to ten thousand rupees and on any subsequent conviction, with imprisonment which may extend to five years and with fine which may extend to fifty thousand rupees.
It is reported that the authorities have already started bringing harsher punishments to effect, by lodging several cases under this section, in order to demoralize the practice of sex determination..
Medical Dialogues had earlier reported about a decoy operation by PCPNDT cell of Rajasthan, where a doctor from Himmatnagar in Gujarat was arrested.  TOI reports The PCPNDT cell imposed Section 315 of IPC and arrested the accused and brought him to Rajasthan. Earlier to this, two cases were also registered in a similar fashion after decoy operations in Haryana and Uttar Pradesh
This comes after expert legal advice, as the state appropriate authority (PCPNDT) Navin Jain has directed his officials to arrest the accused under Section 315 of IPC
The move brings a clear advantage to the authorities in terms of their mandates of operations .A PCPNDT cell official informed TOI that in order to conduct decoy operations for arresting accused in other states, they need to take the other state's appropriate authority (PCPNDT) in confidence. Every state has its own PCPNDT cell. But, under Section 315 of IPC, they have the power to arrest the accused from all other states, except for Jammu and Kashmir. Rajasthan's PCPNDT cell started imposing Section 315 of IPC in October last year. Till date, it has imposed the section in eight cases.
Also , it has been further pointed out that the accused can get a bail when sections of PCPNDT Act are imposed but when Section 315 of IPC is imposed, it is difficult to get bail.
It is further added that the Rajasthan health department have appointed ACP Raghuveer Singh as thw new head of the PCPNDT cell, who has conducted three decoy operations outside the state in UP, Haryana and Gujarat.