Rajasthan Doctors Strike: Rs 1 crore Surety for bail demanded from arrested doctors, 100 arrests so far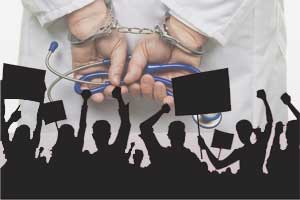 Rajasthan: Situation is turning murkier for the striking doctors in Rajasthan, as not only the police is increasing the number of " Preventive arrests" of medical practitioners under Rajasthan Essential Services Maintenance Act ( RESMA), but the local courts are also taking stringent action against those arrested.
Medical Dialogues team had earlier reported that with the impending strike of government doctors in the state, the Rajasthan government invoked RESMA and began arresting medical practitioners as "preventive arrests". Angry doctors in response immediately called for a mass leave and stayed away from work.  According to recent media reports, the 65 government doctors have been arrested till now, however sources told Medical Dialogues that the number is beyond 100.
Times of India
reports that the when three of these arrested doctors went to apply for the bail to the additional district magistrate (ADM) in Bharatpur, the local court demanded the doctors to submit surety bonds worth Rs 1.1 crore for bail and ordered them not to take part in doctors' strike. These three doctors, identified as — Dr Manish Goyal, Dr Mukesh Vashisth and Dr Kaptan Singh were told to bring five persons, who have property of Rs 20 lakh each and two government employees to take guarantee that these arrested doctors will not go on strike.
The doctors were also told that if they go on strike along with other doctors of the state, the government will collect Rs 1 crore from each doctor by impounding property of the five persons who had taken their guarantee. Also, they will collect Rs 50,000 each from two government employees, who have taken their guarantees.
With such demands, TOI adds that the three doctors were unable to gather the demanded sureties following which they were sent to judicial custody
The doctors are being arrested under section 151 of CrPC (arrest to prevent cognizable offences). Any doctor showing intention in participating in the strike is facing police action in the state.
Read Also:
 Rajasthan Govt arrests 55 Doctors, Medical Practitioner go on statewide Strike