Rajasthan: Police barge in Labour Room to apprehend resident Doctor, Medicos Boycott work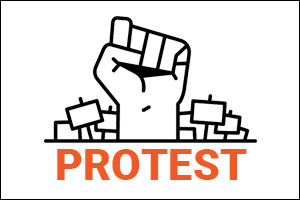 Jaipur: Tension cropped at the Medical colleges in the state, after police barged into the delivery room of JLN medical college in search of a resident doctors,  ignoring the privacy of the female patients. Resident doctors of the medical college, then called it a strike in response
Showing immense support to their agitating counterparts at JLN Medical College in Ajmer, the resident doctors attached to Sawai Man Singh Medical College (SMS Medical College), today boycotted work at the medical institute from 9 am to 11 am.
The said protest is pursuant to the police's alleged harassment at the JLN Medical College. It has been alleged by the protesting medicos that the police personnel allegedly barged into the labour room in search of a resident doctor, against whom an FIR had been filed earlier.
The incident reportedly happened on November 12. Sharing the information about the said incident with TOI, Dr Vijay Singh Chaudhary, President of Jaipur Association of Resident Doctors (JARD), alleged, "The police entered the labour room without any permission wearing shoes and without following any norms. They entered the room when a woman was in such a condition which requires complete privacy. There were women doctors in the labour room. After entering the room, the police behaved badly."
According to a recent report by Udaipur Times, last week a female patient at Janana (Maternity) Hospital had accused a resident doctor of misbehaviour and her family members had lodged a police complaint in that regard. Following that, police officials had gone to the hospital and interrogated the resident doctors.
Responding to the allegations the resident doctors stated that the accusations were baseless and if things continued this way, it would become difficult for male resident doctors to attend to female patients.
"The police entered the labour room in search of a resident doctor. A few days ago, an attendant of a patient had filed FIR against a resident doctor at JLN Medical College. In that connection, the police entered the labour room searching the resident doctor. But, the way police behaved was objectionable," Dr Chaudhary stated to TOI.
Read Also: UP: Saifai Medical University MBBS doctor SHOT, Colleagues in PROTEST
Upset with the police personnel's demeanour, the resident doctors of JLN Medical College set off their strike right away, demanding action against the accused policemen.
"It was unfortunate that Police entered the labour section where CCTV footage showed that women were waiting for delivery. This also amounted to flouting the privacy of women there," the resident doctors alleged.
The association, JARD informed the Principal and Controller of SMS Medical College prior to the said boycott of two hours.
However, if the authorities somehow fail to meet the demands of the agitating medical professionals, the protest may shift its course to the intensification, warned the resident doctors.
The resident doctors of other medical colleges have also extended support to agitating medicos of JLN Medical College.
Resident doctors at MB Hospital announced that will also go on an indefinite strike, reports Udaipur Times.
Read Also: Stop Rangdari: Rewari doctors take to streets to protest against extortion calls