Stop Rangdari: Rewari doctors take to streets to protest against extortion calls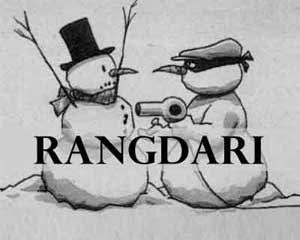 Rewari:  The medical fraternity in the area was seen taking to the streets recently in order to protest against the recent incident of gun firing and extortion calls for Rs 50 lakh made to the Pushpanjali Hospital. The doctors had been working with black bands after the incident and went on a day-long protest recently.
Around 170 doctors associated with the local branch of the Indian Medical Association (IMA) protested to show their disdain towards instances of extortion and violence against the medical fraternity in the city.  The doctors went on a peaceful march starting from Shama Tourist Complex to Sadar Bazaar, Masjid Chowk, Gurudwara Road and finally concluding it back at Shama Tourist Complex.
Medical Dialogues earlier reported that the whole medical fraternity of the hospital was stunned after the incident of gun firing by the few hooligans who managed to enter the premises to carry out the act of terror.
Read Also: Rewari: Pushpanjali hospital firing, Doctors demand arrest or will go on strike
After the firing, the hooligans gave 12- digit number from which the owner was consistently receiving threats and extortion calls for money.
"There have been many calls. The doctor has been advised not to take any calls and we will nab the accused soon," a senior police official told The Tribune.
Lamenting the growing violence which doctors have to face on almost a daily basis the president, IMA, Gurugram, Dr Dinesh Hans informed the daily, "Attack on doctors and damage to hospital property have become an everyday affair. We are constantly threatened with complaints, protests and now criminals and gangsters, too, have started targeting us. They barge into hospitals unchecked and threaten doctors. We are scared. If not checked, then every clinic will have to pay protection money. We want immediate action and special provisions to ensure safety and protection of doctors," he stated.
After the protest, a memorandum was submitted to the DC. If any concrete steps are not taken in the protection of doctors from administration's end, the doctors will go on indefinite strike.
The IMA secretary, Dr Ajay Gupta informed TOI, "The doctors feel unsafe and insecure under the given circumstances where criminals are roaming scot-free. We demand that law and order must be restored in the city", he stated.