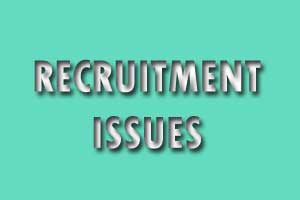 Jaipur: The recruitment course of the Rajasthan University of Health Sciences (RUHS) has taken a murky turn after the issue of posting ineligible candidates in the government-run health centers, has surfaced.
According to certain media reports, over thirteen candidates, who haven't completed their internship yet which is mandatory for getting MBBS degree, have been posted as medical officers at the state-run health centers by the Rajasthan government. These candidates are even not registered with the Rajasthan Medical Council (RMC) but have somehow managed to bag government jobs at health centres.
In addition, the state is waiting for a reply from almost 109 selected doctors, who have been not given posting yet. These doctors have not furnished their verification documents, regardless of several reminders issued by the concerned authorities.
The Rajasthan University of Health Sciences (RUHS) had advertised vacancy for 1,090 posts of medical officers lying vacant, especially at primary health centres, community health centres and district hospitals. The posts were advertised first on March 9, mandating to have a registration with state medical council.
However, when the issue of posting disqualified candidates, made known to the media, the health department came out with an argument that these 13 candidates have not been provided joining yet. These candidates have already been given postings mainly at primary health centres.
Dr Sanjeev Jain, Additional Director (Gazetted), Health Department, informed TOI, "We have given them time to complete their internship first, get registration certificate from Rajasthan Medical Council and only after that they will be given joining."
The health department has given some of them 15 days, while others got one month and one candidate was given time up-to November 12 to complete their internship, get registration certificate from state medical council, following which they can join the duty.
Apart from this, RUHS has also selected candidates who are yet to complete their tenure as a senior resident and also those who are still studying for completing their post-graduation. There are more than 50 such candidates in the list of selected doctors.
The health department has given them an extension of up to six months. "It is government's decision to provide an extension for joining duties for newly selected doctors who are in the process of completing tenure as senior resident doctors and post-graduation. The government will not give an extension for more than six months to such candidates," Dr Jain further added.
 However, those in the waiting list prepared by the state government for medical officer post alleged, "The government has made patients wait for up to six months as it has allowed them to join duty with extension."
Implying that the government ought to sanction these posts, which have been allotted to these ineligible candidates, to the applicants on the waiting list, one applicant complained to TOI, "The government has given posting to those candidates who have not completed their internship, post-graduation and who are yet to complete their tenure as senior resident with extension from 15 days to 6 months. At the same time, there are 1,500 doctors in the waiting list."
Besides, the government is awaiting a confirmation from 109 doctors, who did not turn up even for the verification of documents despite several reminders. They were selected but they have not been given posting. They have been sent reminders by the government at least twice.
Read Also: Can final year MBBS be posted as Intern in Public Hospitals: MCI to Examine
0 comment(s) on Rajasthan: Ruckus after 13 MBBS bag Medical Officer jobs without even completing Internship