Rajasthan: Sex Determination and Abortion nexus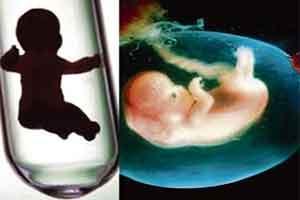 Rajasthan: Suffering from a highly skewed sex ratio, ie 888 girls of 1000 boys, as against the national average of 919 girls to 1000 boys, Rajasthan, like Haryana, is slowly getting notorious for a love for a male child. What it is also getting infamous for, is rising violations under the PC-PNDT law as well as Medical Termination of Pregnancies. Now news reports are pointing out to another racket linking the sex determinations and abortions with certain practitioners duping pregnant women to undergo abortions after telling them that they are carrying a girl child despite the foetus being a male.
Recently a report in HT accounted the case of a pregnant woman, who acted as a decoy patient for the PC-PNDT authorities, helping catch the culprits under the PC-PNDT law.
During the course of her pregnancy, she went to one Dr Mohammad Niyaz of Suncity Hospital, a repeat offender under the Act who performed ultrasound on her informing her that "her foetus was that of a girl." He then recommended her an abortion costing her Rs 60,000. The doctor not knowing, that this was a sting and was soon booked for violations under the PC-PNDT Act.
The decoy patient, then went on to another hospital,where two paramedics performed ultasound on her, again informing that the baby in her womb was a girl. This time she was offered MTP at a price of Rs 50,000.
Ironically, the decoy patient recently gave birth to a healthy baby boy.
Sex Determination and Abortion Racket
The series of sting have pointed out to the growing nexus of a sex determination and consequent abortions, where by practitioners and even quacks regardless of the sex of the foetus, classify it as a girl child and then offer services for abortion. Officials inform that while the going rate of sex determination in the state is between Rs 20,000 and Rs 50,000, the rates for a secret MTP  ranges between Rs 50,000 and Rs 1,00,000.
Officials say inducing women to abort under false advice is intended for making a fast buck. "Telling every woman that she's carrying a girl is risk-free," says Raghuveer Singh, Rajasthan's nodal officer of PC-PNDT told HT.
"If they tell women they are carrying a boy, they get money only for ultrasound, but if they tell them that it's a girl and manage to convince the family to get it aborted, they rake it in," he added.
Activists have pointed out that sex determination and consequent abortion is rampant in areas Sikar, Jhunjhunu, Hanumangarh and Ganganagar, with activities mostly being performed by quacks using Chinese-made portable ultrasound machines.
Uptil now,  the state PC-PNDT cell has carried out 39 decoy operations to nab those involved in sex determination and illegal abortions.