Rajasthan SMS Hospital Bans media in hospital, later withdraws the order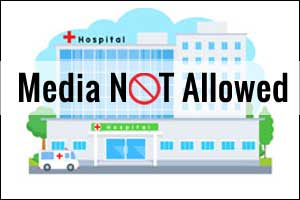 JAIPUR: Rajasthan's prestigious Sawai Man Singh hospital was recently seen withdrawing its order regarding banning the media in the hospital premises, which was issued by the hospital itself last week.
Th SMS hospital order, taken out on Monday last week said that the media takes sensitive picture and videos of ICU, operation theatre (OT), etc without any permission which cause the privacy of the patients.
As per a TOI report, in the order, the SMS hospital stated "It has come to know that on this hospital premises, print and electronic media take video and pictures of sensitive areas such as operation theatre, ICU, out-patient department and without giving official information to hospital authorities they publish negative stories, which are not close to reality affecting the image of hospital."
The hospital in the order directed the hospital staff including and all heads of the department, administrative officers, medical officers, nursing superintendent and others other members of the SMS hospital that if they found someone taking pictures and videos, they should immediately inform security guards and hospital administration.
However, the hospital immediately withdrew its order after the State Health Minister Kalicharan Saraf issued directions to the officials for the same. The minister told the hospital that media is the fourth pillar of democracy and it has its own importance in the democracy.
Giving an Explanation an official of SMS Hospital informed the media saying that such an order was issued three years ago. Now, they have just re-issued it.
Reacting to the diktat issued by SMS Hospital administration, SMS medical college principal Dr US Agarwal told TOI, "We will review the order as why such an order was issued,"