Despite HC Warning, Rajasthan Doctors continue to strike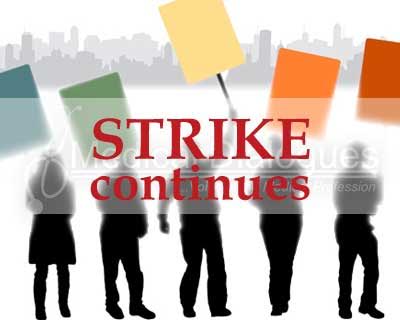 Jaipur: Despite the High Court Warning telling the doctors to resume the duties or face suspension, medical practitioners in the state continued their strike for yet another day.
The High Court intervention reportedly came after the news of two deaths being reported as a consequence of the strike leading the court to intervene and warn the doctors to join the duties with the immediate effect.The court also directed the state government not to arrest the doctors who join duty.
"We mandate that the doctors must resume (their) duties from tomorrow and it would be a condition precedent that in case they report back tomorrow they shall not be arrested by the State," read the court order.


HT reports bench has renotified the matter for January 3, 2018, in which the prayer for contempt and stay will be taken up for consideration.


The strike which has now entered into its fifth day has led to medical services in hospitals, primary health centres, community health centres, district and referral hospitals and medical college hospitals remaining paralysed across the state.
Medical Dialogues team earlier reported that the Doctors announced the strike after the Rajasthan government invoked the Rajasthan Essential Services Maintenance Act (RESMA)  on more than 10,000 thousand doctors. The notification came in the wake of the All-Rajasthan In-Service Doctors Associations decision to indefinitely strike work from December 18 over various demands. However the strike came in earlier than announced as a knee-jerk reaction of doctors when the government arrested 52 doctors as preventive arrests under RESMA.
Read also: Rajasthan Doctors Strike Day 3: 19 more arrests but doctors refuse to back down
Speaking to IANS, a senior official of SMS hospital in Jaipur said that assistant professors are serving in emergency wards and hence patients are getting timely aid. However, patients in other wards are facing a tough time as the number of doctors is very few compared to patients.
Read also: Rajasthan Doctors Strike: Rs 1 crore Surety for bail demanded from arrested doctors, 100 arrests so far