Refusal to treat HIV positive woman: Notices to 2 Doctors, 8 staff members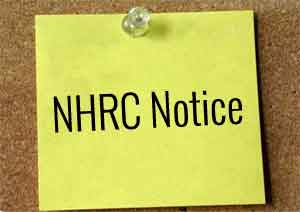 Tikamgarh: The Madhya Pradesh health department issued show-cause notices to ten staffers of the district hospital here, including two doctors, after an HIV positive pregnant woman was allegedly denied treatment there, leading to the death of her newborn twins.
The National Human Rights Commission (NHRC) had issued notice to the Madhya Pradesh government on this issue and sought a detailed report within four weeks terming the incident as the "worst example of cruelty".
"Initial inquiry into the matter revealed carelessness and bad behaviour of the hospital staff. We have issued show- cause notices to maternity ward in-charge Dr Lata Laxmi and Dr Hemlata, besides three staff nurses and five technicians," Joint Director (Health) of Sagar Division, Dr Santosh Jain said.
The five technicians were given notices as they leaked the blood examination report.
According to Jain, the woman is still being treated at the Tikamgarh district hospital. "If required, she would be referred to another hospital. The inquiry report has been submitted to the state government, which will take further action," he added.
The 24-year-old woman, said to be a Dalit and hailing from a village located at a distance of about 70 kms from the district headquarters, was taken to the district hospital on September 5. She allegedly delivered outside the maternity ward after being turned away.
Her husband had alleged that she was refused treatment by doctors of the district hospital.
"My wife and the newborn twin girls were not given treatment at the district hospital after she was found to be HIV positive. The doctors and staff told me that they would not treat her because of the HIV infection. Our newborn girls could have been saved had they been treated in time," the woman's husband had said.
District Hospital Civil Surgeon Ramesh Dandotiya, however, had said the babies were "premature" and they could not be saved due to "inadequate equipment and medical expertise".
"The woman is still being treated at the district hospital. This allegation is baseless that she and her twins were denied treatment because of her HIV infection," Dandotiya had said.