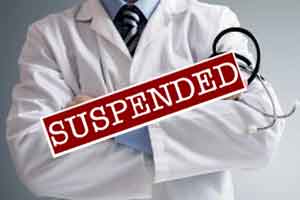 Jhansi: Two junior doctors attached to Maharani Laxmi Bai Medical College have been suspended on account of accusations that they thrashed a patient who allegedly accused the doctors of medical negligence.
The doctors have been suspended for a period of 15 days after a video of them thrashing patients went viral. In the video, junior doctors thrash a patients' attendant and abuse an in-patient when they accused them of negligence in treatment.
The hospital administration has not revealed the names of the doctors yet who were involved in the incident.
The case is that of A man hailing from Mauranipur who approached the hospital with his wife for her treatment. The woman was admitted to the surgical ward after observations.
The incident happened while the doctor on duty and the couple were talking about the treatment. UNI reports that a junior doctor allegedly slapped the husband and abused the on bed patient when they accused of negligence in treatment.
Further, chaos erupted and other doctors reached the spot to calm down the situation. An anonymous person recorded the incident. After the video went viral, hospital administration was asked to take actions against the concerned doctors.
Chief medical superintendent Harishchandra Arya told UNI that matter will be investigated and actions would be taken against culprits.
Following that two junior doctors were suspended for 15 days when they were found guilty of beating patients and his relatives. Acting Principal Dr Sanjaya Sharma confirmed the suspension.
Read also: Amputated leg placed as a pillow: NHRC notices to UP Govt, Health Ministry
4 comment(s) on Reverse Story : Two junior doctors thrash patient attendant, suspended