Safdarjung Hospital: Patient Breaks Resident Doctor's Nose, RDA calls for indefinite strike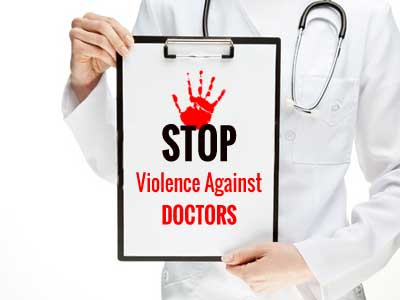 New Delhi: Medical services at one of the largest hospitals in the capital-Safdarjung Hospital came to an utter standstill, yesterday after one of its resident doctors was allegedly assaulted by a patient who had come in for treatment
The resident doctors of Vardhman Mahavir Medical College and Safdarjung Hospital stayed away from work alleging one of their colleagues was manhandled by a Delhi Police head constable's son who had come for treatment.
According to police, son of Head Constable Vinod -- who is posted at Safdarjung Enclave police station, Akshay Kumar (24), was taken to the hospital on Sunday morning after he complained of abdominal pain.
Enraged, Akshay punched the doctor, who sustained injuries on his nose. The accused fled from the hospital soon after the incident, he said.
A member of the Resident Doctors Association (RDA) said the doctor on emergency duty tried to relieve the patient's pain but it did not subside.
"While the resident doctor on duty was filling up a form so that the patient could undergo an ultrasound, the latter started hurling abuses," a senior doctor said. The doctor on duty fell unconscious after he was attacked and suffered a broken nose, he said.
"The resident doctor is under observation. We have lodged an FIR in the case," he added.
Pointing out that this is a repeated phenomenon, the RDA further wrote to the Medical Superintendent adding that while they regret and are saddened by what is happening, they are forced to resort to strike for their protection.  "The resident doctor on duty got mercilessly beaten by the patient and his relatives and has sustained severe injuries including nasal bone fracture on 13
th
of January, 2019 at around 7:30am, in ER-3 of NEB. This is the third such incident of assault on resident doctors by patient's relatives over the last one week," the letter stated
The resident doctors held a protest and demanded that security at the hospital premises be beefed up. The letter added that strike shall be called off only if the following demands are fulfilled:


Deployment of 15 marshals per shift totalling to 60 marshals including female marshals along with 200 guards in NEB.


Strict action against culprits including the involved police constable


Building up of a new Resident Doctors Hostel and interim hiring of a residential complex with 1000 rooms in West Kidwai Nagar on an urgent basis.


Sanction of Leave encashment for passed out Postgraduate students.


Sanction of Risks and Hazards allowance for resident doctors.


Police said Head Constable Vijay and constable on duty, who was also present at the time of the incident, have been transferred to District Lines.
An enquiry has been ordered into the incident and the role of duty constable in instigating the accused is also being probed, they said.
The faculty and the paramedical staff managed the Emergency at the state-run hospital on Sunday.