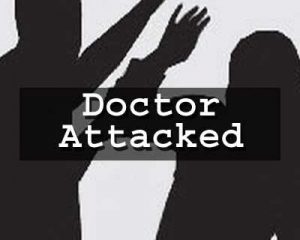 Warangal: A senior orthopaedic surgeon became a victim of harassment and violence when a patient who came for consultation accused the doctor of misbehaviour during the medical examination. Luckily, the whole incident was captured in the CCTV camera which revealed that the doctor was merely performing his duty.
Based on the CCTV footage which proved that the doctor did not misbehave with the patient, a complaint was filed with the police that the woman had made a false complaint against the doctor to defame him.
The incident took place in the OPD of Balaji hospital, Warangal when a young female patient came with a complaint of backache and body pain. The senior orthopaedic surgeon was consulting the patient in the presence of his District Medical Officer (DMO) and three other female staffs and two other patient's were present.
The doctor, while addressing the problem of the patient, asked her to turn around. When he was about to examine her back, she pushed the hand of the doctor and started shouting.
................................ Advertisement ................................
The doctor, before he could give any reaction, one male patient in the OPD room, two others including the husband of the patient from outside the room, came inside the chamber and started shouting and abusing him.
The doctor clarified his side of the matter and informed that he was just examining the patient to provide proper treatment. He did not conduct anything offensive.
................................ Advertisement ................................
The patient, however, alleged that the doctor was touching her inappropriately.
When the group of people started being harsh and continued with their verbal attacks, the police was immediately informed. he provided the CCTV footage which clearly showed the entire matter to prove the doctor's innocence.
Later, the doctor filed a complaint in the Matwada police against the attackers for defaming and insulting him. The complaint was registered under the IPC sections 385 (Putting person in fear of injury in order to commit extortion), 448 (Punishment for house-trespass), 506 (Punishment for criminal intimidation), and under the Andhra Pradesh Medical Protection Act.
After the alleged incident of videos and posts went viral on WhatsApp, hence defaming the doctor.
He decided to take legal action against the culprits and requested the medical fraternity to support him against the allegation made on him.
Meanwhile, the Indian Medical Association (IMA), Warangal branch, lodged a complaint with city police commissioner V Ravinder after a woman patient falsely raised an alarm, reports TOI. The IMA demanded that the woman and her husband be arrested as they, along with eight others, had attacked the doctor at Balaji Hospital where he works. The doctors plan to hold a protest rally
Read Also:14th June: Delhi doctors go on strike against repeated assault on medical professionals
Author Details
Shagufta Joined Medical Dialogues has been associated as Editor for Education Medical Dialogues since the year 2018.  She is a graduate from Delhi University. She can be contacted at editorial@medicaldialogues.in Contact no. 011-43720751
................................ Advertisement ................................
12 comment(s) on Senior Orthopaedician Attacked, Accused of Misbehaviour, CCTV proves his innocence