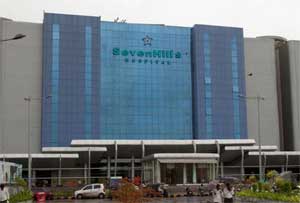 Mumbai: The prestigious 1500 bedded hospital in Mumbai, Seven Hills Hospital is facing a major financial crunch forcing it to recently shut down its outpatient department services to save expenses. Moreover, the hospital has also not been able to pay its employees including employed and consultant doctors for the last six months, which have forced the doctors to refrain from coming to duties.
The hospital came out with the decision to shut down its OPD after discussing with the senior doctors and management. One of the major reasons of the shutdown comes as saving the electricity bill which runs to the tune of Rs 1 crore per month. It is reported that the hospital might close the other sections to save power, having defaulted on electricity bills running into crores of rupees for a few months.Overall, the losses of the hospital have been estimated to be Rs 150 crore each between financial years 2013-14 and 2015-16.
The move also comes in the light of doctors strike, who have not been paid their salaries for the last six month.
In Month of December, 50 doctors began an indefinite strike over non-payment of salaries. "We have been working without salaries for six months. Our EMIs are bouncing. While we are chasing the management, the banks are chasing us," said a doctor. "It's worse for doctor couples if both work here," another doctor told TOI.
A senior doctor, who is on a strike, said that they got an email on Wednesday morning, asking them to vacate the OPD chambers in one hour. "We were told to remove our stuff from our OPD cabins as they will lock the rooms. Though we are on a strike, we were sitting in our rooms. But the management locked them. It is like telling us indirectly that we must leave the hospital, " the doctor told Freepressjounal 
Sources at the hospital said that nurses and paramedical staff have also started quitting due to non-payment of salaries. Some claimed that they have told to seek employment elsewhere.
Although the hospital has a capacity bed strength of 1500 beds, currently there are only 15 patients admitted to the hospital. SevenHills Hospital's vice-president Dr LP Sadhotra told Mirror, "As our doctors are on a strike and is not doing OPD duty, there is no point in keeping it open. To save expenses towards electricity, we are shutting down those sections that are empty. Why waste energy unnecessarily?"
In the latest report of Ahmedabad Mirror, the Global finance giant JP Morgan Chase, which has 49.9 percent stake in SevenHills Healthcare ( the organisation that runs the Marol Hospital) is going to intervene and take over the loss-making unit. The global finance giant will disclose the details of its arrangement with other creditors before the Hyderabad bench of the National Company Law Tribunal in January 19, 2018 adds the daily.
2 comment(s) on Seven Hills Hospital Crisis: OPD shuts down, doctors unpaid for 6 months