Shocking: Senior doctors beaten up at Apollo Hospital, Bannerghatta Road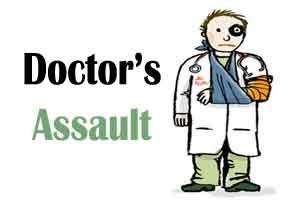 Banglore: Repeated instances of violence against doctors is not just limited to government hospitals in the country, it seems. A recent instance of attack, shows that medical practitioners working with posh corporate hospitals are also at risk of being injured at the hands of angry attendants.
This recent instance of violence, has been reported from Apollo Hospital, Bannerghatta Road, where a Head of Pediatrics along with an entire team of ICU doctors, nurses as well as security guards were beaten up by the attendants of a 7 year old patient, who died after 12 hours after being admitted with viral fever.
The case goes back to Tuesday midnight, when a 7 year old girl, Samisha was admitted to the hospital with complaints of fever, headache and vomiting. During the course of admission, she developed convulsions and thereafter, arrhythmia. According the a statement by the hospital: "The child was in the hospital for about 14 hours during which the hospital provided all the requisite medical care by the doctors -from pediatrician and neurologist -and there was no shortfall in the entire care process... In spite of the due medical attention, the child could not be saved."
Soon after the death of the child, a mob of 30 people allegedly barged into the hospital ICU  and assaulted doctors, nurses and security guards, while also damaging the hospital property.
Dr Ramakrishna Hegde (paediatrician), Dr Krishna Chaithanya (neurosurgeon), Dr Pramod K (senior resident), Dr Govindaiah Yatheesh, Dr Ananth Rao (biochemist), Dr Venkatesh H K (neuro-intensivist), along with two nurses and three security guards, suffered body blows, blunt injuries, nose bleeds, bruises and chin injuries on Wednesday at the hands of 'miscreants', reports Indian Express.
"Dr Hegde, who was the treating doctor, has a swollen and bruised chin. The security guard's nose is broken and Dr Pramod has nose bleeds. This should not happen with any other doctor," Govindaiah Yatheesh, medical superintendent of the hospital, said.
The attendants of the patient have alleged medical negligence on the part of the hospital. TOI reports said two cases have been registered by the police: one by the girl's parents alleging medical negligence; and the second by the hospital for vandalism and assault on doctors.
CCTV footage of the incident on Wednesday and medical reports on the injuries suffered by the doctors have been collected for further investigation. The body of the child has been sent for autopsy.