Shortage of 7,348 doctors in govt hospitals in Uttar Pradesh: Minister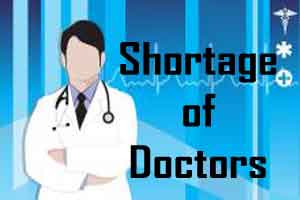 Lucknow: Uttar Pradesh government admitted on Tuesday in the state Assembly that there is a shortage of 7,348 doctors in the government hospitals though during the BJP regime, of around one-and-a-half year, they have recruited 3,253 doctors through different modes.
Replying to a question of SP member Manoj Kumar Paras during Question Hour, State Minister for Rural Development Mahendra Singh said there are 841 specialist doctors which have been appointed by this government.
Claiming that there is no shortage of medicines in the government hospitals, the Minister said the retirement age of the doctors has been increased from 60 to 62 years, while retired specialist doctors were engaged on contract basis. He said there are 18,382 posts of doctors in the state.
However, the SP member alleged that in most of the government hospitals in the state, the doctors force the patient to go to the private nursing home, which is very unfortunate.