Shri JP Nadda inaugurates Swacchta Mela at AIIMS, New Delhi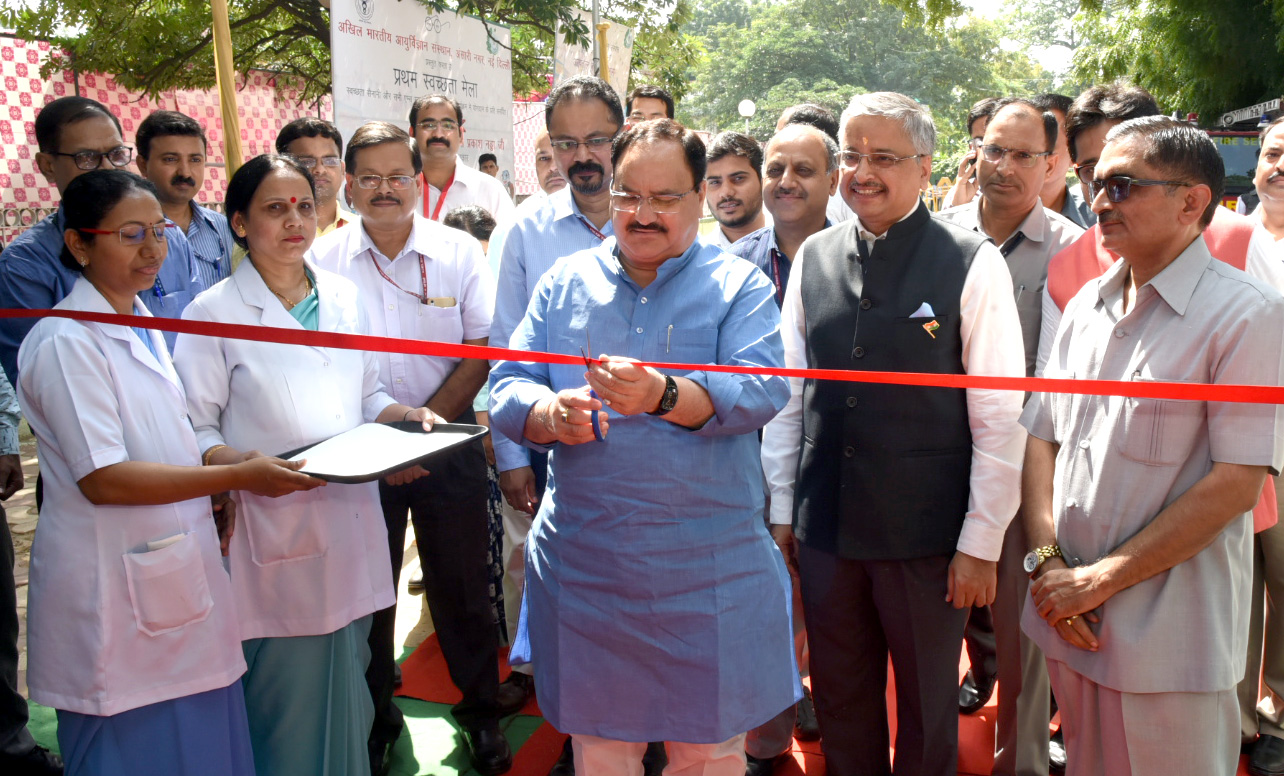 New Delhi: Shri J P Nadda, Union Minister of Health and Family Welfare today inaugurated the 'Swacchta Mela' at AIIMS, New Delhi. Speaking at the occasion, Shri Nadda said cleanliness and sanitation should not be a one-time activity but should become a part of our daily life. He also added that all hospitals and government health facilities should endeavour to maintain cleanliness and hygiene throughout the year.
Shri J P Nadda also administered the "Swachhta Pledge" to the participants and volunteers. The Union Health Minister also unveiled the new poster series on anti-spitting, anti-littering and a DVD of the short film on Bio-Medical Waste Management (BMW) "TOTO Ki Pathashala" at the function.
Shri J P Nadda urged the people to internalize cleanliness and inculcate hygiene as a matter of lifestyle. He stated that sanitation is a key determinant of health and a clean and hygienic environment hugely contributes to preventing many diseases like diarrhoea, lymphatic filariasis, trachoma etc. Shri Nadda reiterated the importance of preventive and promotive health.
Shri Nadda further stated that Kayakalp has played a pivotal role in gaining the trust and confidence of the community in public health facilities. "It involves a continuous process of assessment of facilities on predefined criteria and has proved to be a successful intervention," Shri Nadda said. He further added that the zest and zeal shown by the hospitals and their collective efforts in improving cleanliness, hygiene and infection control practices should continue unabated.
The Union Health Minister informed that the National Accreditation Board for Hospitals and Healthcare Providers (NABH) has decided to consider the assessment of healthcare facilities in the private sector on the lines of parameters of Kayakalp Scheme.
Swachhta Mela is being organized by Department of Hospital Administration on 1st & 2nd October as welfare activity for the Swachhta Senanis (hospital housekeeping and sanitation staff) to express gratitude towards their dedication, hard work and untiring efforts in keeping AIIMS Clean & Green.
Prof Randeep Guleria, Director AIIMS, New Delhi, Dr Vijaydeep Siddharth, AIIMS Swacchta Abhiyan, Dr D K Sharma, Medical superintendent, AIIMS along with other senior officers and faculty were also present at the event.