Sir Ganga Ram hospital Nephrologist, Dr AK Bhalla conferred with Dr BC Roy Award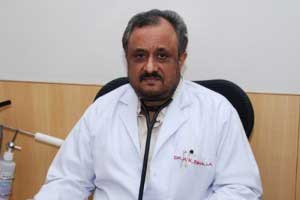 New Delhi: Renowned nephrologist and kidney transplant surgeon associated with Sir Ganga Ram Hospital has been chosen for the prestigious Dr BC Roy National Award for the year 2017
Dr A K Bhalla who is currently the Co-Chairperson, Department of Nephrology, Sir Ganga Ram Hospital (SGRH), has been selected in the category -- to recognize the best talents in encouraging the development of specialties in different branches of medicine (Nephrology)
Born in a remote village of Himachal Pradesh, Dr. Bhalla completed his medical training at the Amritsar Medical College, Amritsar with medals in four subjects and with merit scholarship. He did his post graduation in Internal Medicine and Nephrology at PGIMER, Chandigarh and also cleared his DNB in Nephrology in 1987.
Since then, Dr Bhalla has been working at the SGRH for the last 30 years, starting as a consultant nephrologist to now its Co-chairperson and has trained more than 50 students in nephrology.
When he joined the department at Sir Ganga Ram Hospital, the kidney transplant services had just started.  Since then, the department has performed over 4000 kidney transplants. The department is recognized as a leading center for kidney transplantation in India. He pioneered the technique of ABO-incompatible  Renal Transplant in India.
Dr. A.K. Bhalla is actively involved in Vascular access surgery for haemodialysis and has innovated new techniques, which were presented at Japanese Society of Dialysis therapy at Sapporo, Japan.  He has performed around 5000 vascular access surgeries so far.
This is not the first honor conferred to the transplant specialist. Dr. Bhalla was awarded the Padma Shri in 2010
 for his contribution to the field of medical
 science
Speaking to Medical Dialogues team, Dr Bhalla said, " I dedicate this award to my teachers, family, students, and patients. This award will motivate me to work hard and serve the society in a better manner, It will humble me and I would like to remain grounded."
The Bidhan Chandra Roy Award was instituted in 1976 in the memory of renowned physician and freedom fighter BC Roy by Medical Council of India.
Read Also: Dr
Rajeev Sood, Dean PGIMER- RML Hospital conferred with
Dr BC Roy Award