Sir Ganga Ram Hospital to open Ayurvedic centre in China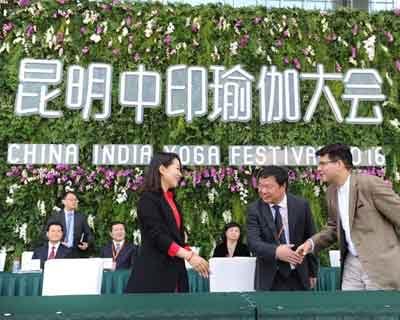 Delhi's Sir Ganga Ram Hospital has signed a Memorandum of Understanding (MoU) for opening an Ayurvedic centre in China.
According to a statement issued by the hospital on Monday, the collaboration will take place with Yogame, a Chinese company, and the Ayurvedic centre will be opened in Kunming -- the largest city in Yunnan province of South west China.
The M.O.U was signed between Mrs Gloria Hao , Chairperson , YOGAME , Mr Sheng Xulei , Board Chairman of Yunnan Metropolitan Construction Investment Co. Ltd and Dr Parmeshwar Arora , Senior Consultant , Department of Ayurveda , Sir Ganga Ram Hospital .
YOGAME is a Chinese company running Indian traditional yoga centers in China .
Dr Parmeshwar Arora was invited as an expert in recently held China-India Yog Festival 2016 . The inaugural ceremony was attended by dignitaries from China government , embassy of China in India and Indian Embassy in China .
According to terms of M.O.U , Dr Arora will contribute for sourcing of Ayurvedic materials . He will also provide skills and training of manpower . Consultancy on Ayurveda will be provided by Dr Parmeshwar Arora .
Sir Ganga Ram Hospital , New Delhi which is renowned in the field of  Modern Medicine also runs Alternate Systems of Medicine for last 12 years . Besides Ayurveda , it also includes Departments of Homeopathy , Acupunture and Yoga .
Arora will also provide consultancy on Ayurveda for the newly-established centre.