Soon, GST on Pharmaceutical companies freebies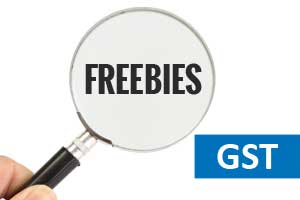 Mumbai: Pharmaceutical companies may come under the lens of GST for offering freebies and trade schemes, according to a recent media report.
ET reported that the schemes like buy-one-get-one-free , 20 percent extra for the same price offered by the pharma firms will attract goods and services tax (GST) on the extra quantities, raising the prospect of the principle being applied to a broad spectrum of consumer products.
People with knowledge of the matter told the daily that the tax heads of firms such as Novartis India, Sun Pharma, Cipla, Lupin have been summoned for meetings with tax officials. Moreover, investigations have begun by the Director General of GST (Intelligence), an arm of the indirect tax department and details of incentives given to distributors, stockiest and customers were sought by about 30 companies.
The tax authorities want them to either pay GST or reverse input tax credits on the extra quantities.
A Novartis spokesperson told ET, "We did receive a query from the Director General of GST (DGGST) regarding trade discounts offered to stockiest in one jurisdiction. We have responded to the query and believe that we are in full compliance with the law."
People with knowledge of the matter said the tax department is set to extend its purview and more companies could get queries and tax notices in the coming months. "The approach is to either induce payment of tax on quantity given as the bonus or have the reversal of input tax credit," said one of them. "The view that the tax department holds is that bonus quantity not 'in furtherance of business' and tax credit needs to be reversed."
Experts said the practice has been followed by pharma companies for several years and the demand may open a pandora's box of litigation.
Suresh Nair, partner, EY India told ET, "Often pharma companies dish out promotional schemes, which is a business decision, and such transactions should typically neither be subjected to GST nor trigger reversals of credit. If demand notices are issued, this could lead to litigation across the industry and could have a pan-India impact." Similar issues are also being faced by FMCG companies.
Earlier, the tax was not applicable on the free samples under the tax regime, as the law said there needed to be a monetary consideration for goods to be taxed. However, many states had provisions that allowed the reversal of input tax credit for free samples. This was limited to value-added tax (VAT).
It is understood that many tax officials are equating freebies doled out by pharma companies with 'gifts' under the GST framework. There are specific regulations regarding gifts and in some cases GST is applicable or input credits need to be reversed for such items reports
ET
.