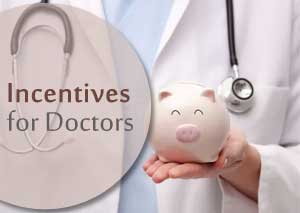 Faridkot: Keeping in view the acute shortage of medical professionals in the government hospitals located in remote areas, the Punjab Health Department has written to the civil surgeons approving monthly intensives above salaries and salary hike of the specialist doctors under National Health Mission (NHM).
The additional chief secretary, health and medical education, Satish Chandra wrote to all the civil surgeons asking them to categorise the Community Health Centers, Sub Divisional Health Centers and District Hospitals in their respective areas into three categories for grant of incentive of Rs 25,000, Rs 50,000 and Rs 75,000 per month to the specialist doctors (MDs).
The chief secretary also added in the letter that the incentive would be applicable for gynaecologists and paediatricians working under the National Health Mission.
The Civil surgeons were also asked to provide the inputs of the specialities which needed incentives for regular doctors.
Read Also: Odisha Incentives: PG doctors to get additional Rs 20,000 pm, Super Specialists Rs 30,000 pm
The health department of the state observed that specialists working under National Health Mission, recruited on a contractual basis, were not satisfied with the fixed payment. Therefore, the health department decided to increase their basic monthly remuneration from Rs 70,000 to Rs 1,25,000.
The Chief secretary  Satish Chandra informed the tribune, that besides providing these incentives to the specialists, the department has a proposal to appoint doctors on part-time (4 hours working) basis, in case regular specialist doctors are not available under NHM.
The state health department made this move after finding a deficiency of specialists including gynaecologists, pediatricians, anesthetists and surgeons. The solution comes in terms of giving them incentive on the basis of their place of posting, wrote the additional chief secretary to civil surgeons.
The purpose of this exercise is to compensate the Specialists doctors for any hardship due to their posting in remote areas of the state.
The Health Department faced big problem in arranging doctors in radiology, paediatrics, TB and chest, medicine, gynaecology branches adds the Tribune
2 comment(s) on Specialist Shortage: Punjab to Offer Rs 25,000- Rs 75,000 Extra incentives to MD doctors