DMC Elections 2020: Youth and Experience Come Together to reform Delhi Medical Council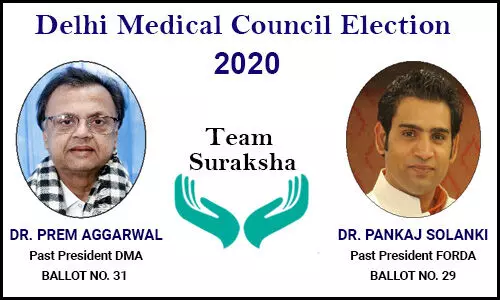 The Delhi Medical Council Elections are going to take place on 8th March 2020 at IARI Pusa Road, New Delhi. All doctors registered with the DMC and practising in Delhi are eligible to vote
New Delhi: The elections for the Delhi medical council of the capital has been announced and 45 doctors are going to now battle for 8 coveted posts of the governing council of the state medical regulator.
Eminent medical leaders of the capital have united under the banner of "Team Suraksha" where experienced doctors are joining hands with young doctor-leaders to constitute a balanced and more doctor friendly medical council

" Delhi Medical Council was constituted to maintain the register of the modern system of medicine and thus eradicate quackery as well as to prescribe a code of Ethics to the medical profession. However, it has deviated from its aims and objectives of providing a safe and ethical environment for doctors to practice and has become a tool of harassment in the garb of medical negligence cases. We aim to strengthen the medical council to make it more oriented towards the welfare of doctors, removing quackery from its roots, and set an example for ethical practice in the country." said Dr Prem Aggarwal, a leading cardiologist, Past President DMA and member team Suraksha ( Ballot No 31)
One of the focuses of Team Suraksha will be addressing the issues of the growing violence against doctors, whether working in government hospitals or out of their clinics.
" State Medical Council have got a mandate to protect from harassments as well as assaults. However, despite this, young doctors are being beaten up almost on a daily basis and this medical council remains completely oblivious to its basic responsibilities. Even woman doctors are uncomfortable going to work. We aim to create a council that is doctor-protective especially for women while also being patient-friendly." Said Dr Pankaj Solanki, Former founder-president FORDA and member team Suraksha (Ballot No 29).
Other members of the team Suraksha include Dr Harish Gupta ( Ballot No 18), Dr Nomeeta Gupta ( Ballot No 28), Dr Kamal Parwal ( Ballot No 20), Dr Ashwini Goel ( Ballot No 12), Dr Anil Kumal Bhalla ( Ballot No 6).
The Delhi Medical Council Elections are going to take place on 8th March 2020 at IARI Pusa Road, New Delhi. All doctors registered with the Delhi Medical Council and practising in Delhi are eligible to vote