Civil Contractor Cheated Of Rs 25 Lakh In Promise Of MBBS Seat In GMERS Medical College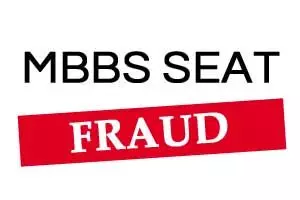 Vadodara: A city-based civil contractor has recently duped of Rs 25 lakh by a history-sheeter under the pretext of securing an MBBS seat at GMERS Medical College and Hospital in Gotri. The accused has now been booked under charges of cheating and criminal conspiracy following a complaint moved by the contractor who fell prey to the medical admission fraud.
It so happened that the student had already secured an MBBS seat in Ahmedabad, however, the contractor wanted her to continue further studies in Vadodara. In due course, he came across the fraudster through an employee.
Times of India
reports that the accused assured him that he will arrange a seat for his daughter at the college as he is a senate member of the MS University. He further claimed that he knew several influential personalities as well, thus, he can ensure the admission of his daughter in the college under the NRI quota.
Trusting the person, the complainant paid him almost Rs 5 lakhs in August 2017 but when he met the accused the next day, he informed that admission can only be availed through management quota and hence sought another Rs 12 Lakhs from the complainant which he paid.
In order to gain the trust of the complainant, the man allegedly showed the contractor the name of his daughter and her admission details on a fake MSU website too. He also sent a fabricated provisional admission letter for his daughter to the complainant and again secured Rs 6 Lakhs from him.
However, after a month when there was no further progress in the admission process the complainant became skeptical and started questioning the accused. Meanwhile, the accused stopped responding to the queries after which the contactor understood that he had mistrusted the person and was given false assurance by him.
Thereafter, the complainant demanded a refund from the accused, and only after repeated requests and calls, the accused returned Rs 15 lakh out of the 25 lakhs which was already paid by the complainant. There was no further initiative on part of the complainant to return the rest of the amount.
Finally, the contractor approached Manjulapur police station and the police registered a case against the accused on Saturday. TOI reports that the accused has already been booked for some similar cases in the past where he made false promises of granting jobs to youths in a Gujarat based company.
Source : with inputs