Gujarat deploys 2nd, 3rd, final year MBBS students for Compulsory COVID duty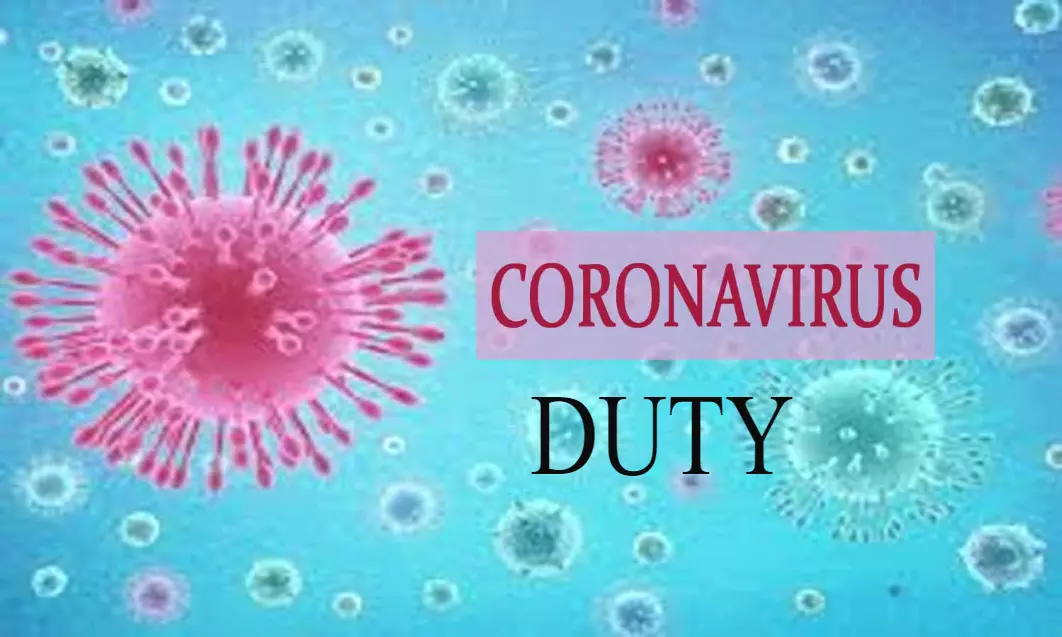 Ahmedabad: Amid the rising number of COVID-19 corresponding to the shortage of staff to handle the patients in hospitals, the state government has recently issued an order deploying all MBBS students of government-run medical colleges and those associated with Gujarat Medical Education Research (GMERS) for COVID duty. Besides, students from paramedical colleges have also been directed to tender their services.

The notification does not include 1st-year medicos. As per the order, the MBBS students of the second year and above are to be deployed for Covid-19 duties including field surveillance and supervision, infection prevention and control, psycho-social care, nursing assistance and caretaking of patients under home isolation.
Earlier, the state had issued a Government Resolution (GR) on July 17 asking all students to extend their services amid the COVID pandemic so to manage the patients and hospital activities effectively. The state health department had mentioned that students of various faculties including MBBS, BDS, physiotherapy, BSc nursing, BHMS, BAMS and various other medical and paramedical courses will have to undergo a training programme before they can be deployed in the field.
Later, challenging the circular issued by the colleges on July 17, July 22, and July 24, asking them to assist in the fight against Covid-19 and the threat that their academic sessions would not be granted if they failed to report for this 'voluntary' service, the third-year MBBS students of NHL Municipal Medical College and LG Medical College had approached the court.
The medicos while voicing against the government's diktat for them to join Covid-19 duty as 'Corona Sahayaks', had contended that such "voluntarism" cannot be thrust upon them. The medical students moved the high court submitting that neither the students have any qualifications nor they have the experience to perform such duties.
Also Read:COVID Duty for MBBS Students: Over 140 MBBS students move HC to quash GMC circular

However, expressing anguish over the petition moved by MBBS students, the Gujarat High Court had denied to grant them relief and has called the matter as unfortunate citing that there are medical students do not want to render their services in these critical times. It assured the MBBS students and cited, "But more than duty, here is an opportunity of a life time to experience the beautify of healing on a scale and challenges which, in our opinion, happen to be historic."

Read Also: Condemnable That Final Year MBBS Students Don't Want To Render Services In Critical Times, Laments Gujarat HC
The state government had submitted before the court that it had become very difficult to get necessary help in the form of medical services. As a result, the government was left with no option to but to turn to medical and paramedical students to render their services.
The state is facing acute shortage of frontline medical teams to battle the pandemic and the circular aims to create an additional frontline task force of undergraduate students pursuing medical and paramedical studies, Jaiprakash Shivhare, health commissioner told TOI adding that the COVID duty will be part of their training. "It will give good exposure to the medical and paramedical students. We need more manpower to fight COVID crisis. The HC has also said that for medical students, it is a part of their duty, We need to run al health service facilities including rural areas and for this we need to use all resources we have." he said.
According to TOI report, the state government's recent circular is expected to add an additional frontline task force of 1 lakh undergraduate students, said sources.
Medical Dialogues recently reported that Gujarat government had decided to deploy final year nursing in government hospitals. The final year nursing students were most likely to join their duties from September 21st and they will be referred to as nursing assistants (sahayaks).
The notice to this effect was issued by special duty officer Vinod Rao wherein he invoked the disaster management act to rope in nursing students.
View the recent circular below:

#Important

2nd,3rd and Final MBBS Students of all Government & GMERS Colleges will be deployed for Covid Duty from 21st September under Medical Superintendent.
College Dean will issue Final Notice for each College.

Order of State Government under Epidemic Disease Act. https://t.co/pM03VlSfe9 pic.twitter.com/ijC2n6dxQN

— Meet Ghonia (@Meet_Ghonia) September 19, 2020
Source : with inputs