NEET PG Counselling 2020: ACPPGMEC Releases Guidelines for Choice Filling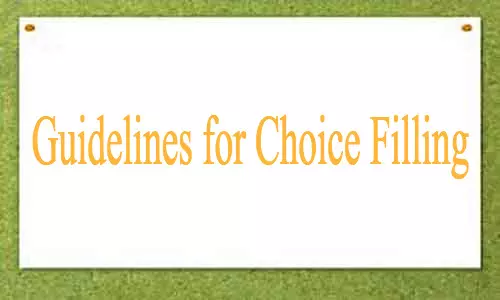 Ahmedabad: The Admission Committee for Professional Post-Graduate Medical Educational Courses (ACPPGMEC) has released the guidelines for choice filling for candidates seeking admission to PG medical and dental courses across medical colleges in the state for the academic year 2020-21.
IMPORTANT INSTRUCTION FOR CHOICE FILLING
All candidates are requested to follow the choice filling of counselling as per his/her desire with/without considering the seat matrix available on website because:
Vacant NRI seats will be converted to Management seats
Vacant Management seats will be converted to Government seats
Vacant Institutional seats (Open/SC/ST/SEBC/EWS) will be converted to respective CATEGORY of State seats (Open/SC/ST/SEBC/EWS).
Vacant Reserved Category State seats (SC/ST/SEBC/EWS) will be converted to OPEN State seats
Vacant In-service/PWD seats will be converted to State seats in respective category
Above procedure will be followed during allotment process.
All candidates are also advised to read the Rule No. – 12 for admission procedure in PG Rule-2018
GUIDELINES FOR CHOICE FILLING
Important aspects of choice filling
Online allotment of seats done on the basis of merit cum choice
So it merits cum choice based allotment
Choice can be decided on the following criteria
Specific Branch
Specific Institute/Place
Government or SFI
The choice on the base of fees
In the choice filling of Second round, Choices available for candidates/Allotment of seats will be carried out as per the Closure of first round.
If a candidate is unable to secure the allotted seat for whatsoever reasons, such candidate shall not be eligible to get admission in the same subject in the same institute in the successive rounds of counselling.
Options are
• Available Choice: you can see all available choices
• Fill choice: to start your choice filling process
• Print filled choice: after locking your choices you can take a printout of your choice list.
Available Choice: you can see all available choices
• Please check annual fees and term fees
• Candidates have to pay term fees at the time of admission in case of NRI admission Rs. 10 lakh DD in favour of ACPPGMEC.
Box 1: Filter your choices by branch, subject, institute type, seat type and institute.
Box 2: Add your choices, you can add an unlimited number of choices.
Box 3: You can move and delete your choices according to your preference.
Box 4: You can re-arrange your choices by serial number.
Fill Choice: you can add choices from left side panel to right side
• Blue: Govt. Institute / Green: SFI institute
• GQ: Government Quota/ MQ: Management Quota/ NQ: NRI quota
• After save and exit choices page, you can review your choices.
• Click on modify choices to modify your choices.
• After typing 14 digit PIN no., you can lock your choices.
Box 1: You must take print-out of your locked choices. Whenever any query arises, the committee will consider print-out of your locked choices only.
Box 2: You can again Un-Lock choices after entering 14 digit PIN No. to modify the choices.
If you fail to lock choices it will be automatically locked on the last day.
https://medicaldialogues.in/pdf_upload/pdf_upload-127293.pdf