Haryana doctor burnt alive in car, kin alleges murder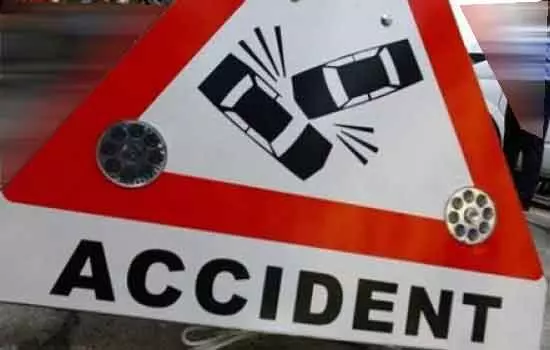 Gurugram: In an unfortunate incident, a 35-year-old doctor was burnt to death after his car allegedly caught fire and the doors got accidentally jammed on Sohna road near Bhondsi on Wednesday.
The police spotted the body of the doctor in his Maruti Celerio car on Wednesday morning near Ghamroj village on the Sohna Road, around 10 km from Gurugram city. However, the kin of the deceased is speculating that the alleged accident might actually be a murder. Hence, police are investigating the case to discover if there is any foul play involved.

The deceased had been identified as a resident of Ghamroj who owned a private hospital in Sohna.
Hindusthan Times
reports that according to the police, the incident took place at around 6:40 a.m. when the doctor was returning home after his duty in the hospital in Sohana.
The family members of the deceased in their statement informed the police that they had a conversation with the doctor after midnight when the doctor informed that he was going to be late as he had to attend to some patients in the emergency ward. When the family members called him in the morning, all the calls went unanswered after which they contacted the hospital. The hospital informed them that the doctor had already left around 6 a.m.

In the meanwhile, when the villagers saw the burnt car along with the charred body of the doctor in the morning, they informed the police. A police team reached the spot along with a forensic expert and sent it for an autopsy at the Sohna General Hospital.
"A team from Bhondsi police station rushed to the spot and identified the man. Preliminary investigations revealed that there was a fault in the CNG fitting of the car, due to which the doctor jammed trapping Raghav inside when the fire started," Preet Pal Sangwan, assistant commissioner of police (crime) informed Hindustan Times. The body has been sent for post mortem.
IANS reports that police informed the family afterward, who alleged that it was a murder and not an accident. "Family members say that since the car was parked on the roadside, it is clear that someone killed him and then set it on fire," said a police officer.
"We are investigating the case from all angles. The cause of death will become clear once we get the post-mortem report. The forensic team is collecting evidence from the spot. CCTV footage from surrounding areas is being scrutinized," ACP (Crime) said.
The police have initiated inquest proceedings under Section 174 of the Code of Criminal Procedure (CrPC).
Source : with inputs